Gränges is a leading global supplier of rolled aluminium products for heat exchanger applications and other niche markets. We develop, produce and market advanced materials that enhance efficiency in the customer manufacturing process and the performance of the final products. Our geographical markets are Europe, Asia and the Americas.
>> 2,400 employees
>> Listed on Nasdaq Stockholm
>> Net sales SEK 13 billion
>> Production capacity of 560,000 ktonnes
>> Adjusted operating profit of SEK 866 million
We are set to drive growth through innovation and acquisitions, increase efficiency through continuous improvements, and add value through our sustainability initiatives.
- Johan Menckel, CEO
Aluminum - the "green" metal
Aluminium is often referred to as the "green" metal thanks to its properties that support sustainable development. It is lightweight, strong, corrosion resistant, durable, versatile and impermeable – and it is also highly recyclable. These unique characteristics enable Gränges to offer resource efficient and climate smart solutions for all customers.
End-customer markets
Gränges' end-customers are in the automotive industry, the HVAC industry, and niche markets such as, transformers, spciality packaging and heat exchanger solutions for industrial applications, agricultural machinery and wind power turbines. In the industry for rolled products for brazed heat exchangers, Gränges has a clear market leading position, estimated at around 20 per cent globally. The automotive industry accounts for about 45 per cent of our sales, the HVAC industry accounts for around 20 per cent, speciality packaging for about 14 per cent and other end-customer markets account for the remaining 21 per cent.
The automotive industry
Every second car produced contains Gränges' materials and expertise. The increase of electric vehicles (EVs) will drive demand for Gränges' products.
The HVAC industry
Aluminium is increasingly used for stationary heat exchangers, and Gränges holds a strong position in this industry in Americas.
Other end-customers
Gränges is a major supplier of winding material for transformers and speciality packaging in Americas.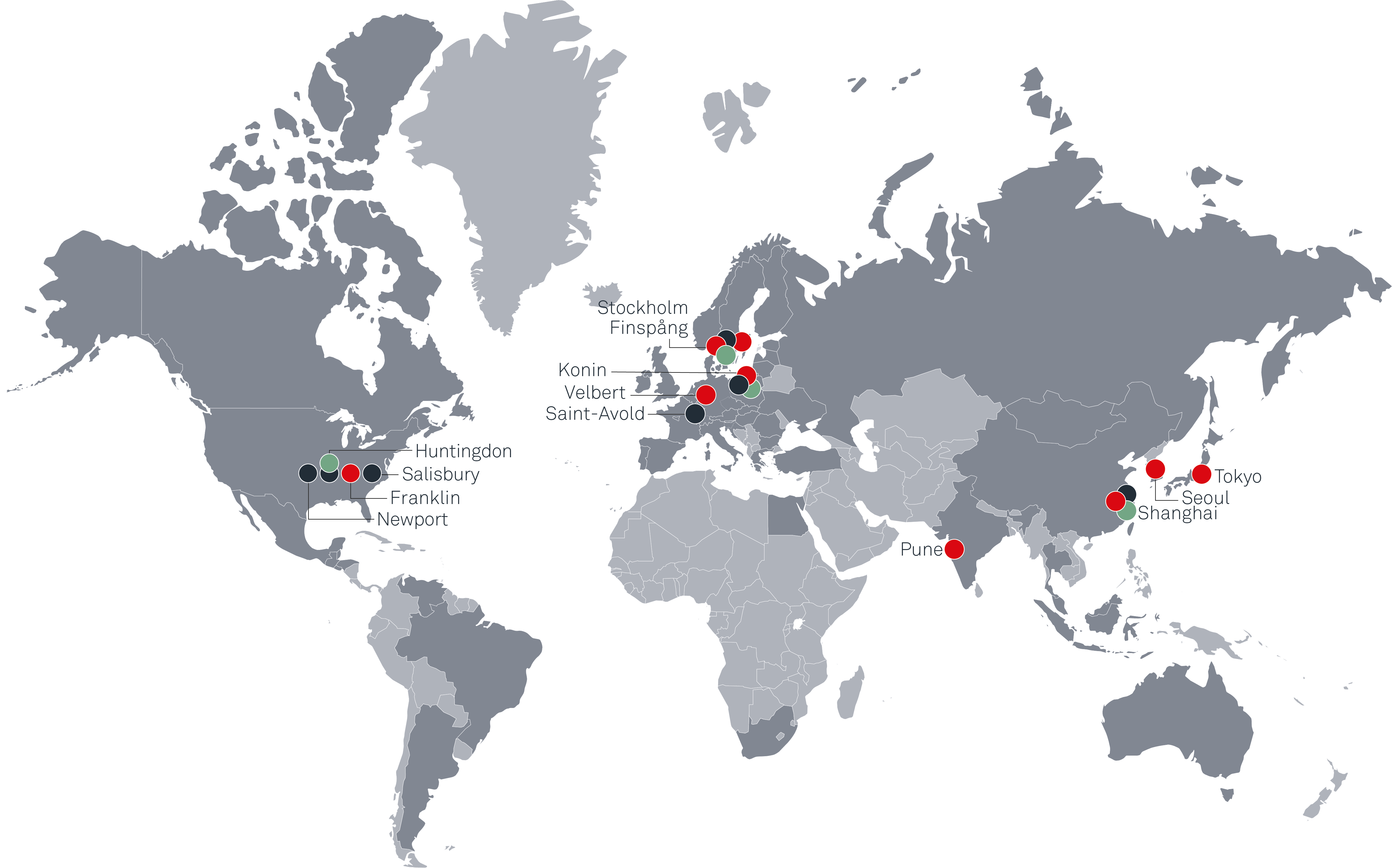 Leading positions
We have a leading global position in rolled aluminium materials, with product development, manufacturing, sales, and technical support on three continents. This enables us to assist global and regional customers with leading products and unmatched capabilities.
Asia: Leading position in rolled products for brazed aluminium heat exchangers.
Europe: Leading position in rolled products for brazed aluminium heat exchangers.
Americas: Leading position in rolled aluminium products for stationary heat exchangers. Second largest supplier in rolled products for aluminium heat exchangers for the automo­tive industry. Strong positions in niche markets such as transformers and food packaging.
High production capacity on three continents
We have a total production capacity of about 560,000 tonnes, split across six production sites on three continents. The facilities are highly optimized according to lean-principles with demand-driven production, and meet customer requirements in terms of quality, flexibility, and delivery.
Sustainable business value
Sustainability is a natural part of Gränges' core business and strategy. It helps to increase our long-term competitiveness and aims to create lasting value for Gränges as well as for our customers, employees, investors, and other stakeholders. Sustainable business value is created both by reducing undesired impacts of our operations and by further increasing the positive contributions that emerge from integrating sustainability aspects into the business. We have a group-wide sustainability framework which covers those 12 material topics that have the highest sustainability impact and which stakeholders assess to be most important for Gränges to address. The topics are grouped into five sustainability pillars, each pillar has an accompanying long-term commitment and targets for 2025. Learn more >