2021 in brief
Adjusted operating profit
Carbon intensity (scope 1+2)
Carbon intensity (scope 3)
Share of sourced aluminium scrap
CEO Statement
CEO statement
A year of recovery and investment for the future
A commitment to close cooperation with customers and suppliers. Fast action in the face of dramatic swings in demand, supply chain challenges, and cost increases. Innovation. Teamwork. A good contribution from Gränges Konin. All these things helped to make 2021 a year of strong recovery as well as record volumes and profit, despite a challenging environment. In sustainability, we made good progress against our very ambitious targets. We also kept investing in capacity, operational improvement, and future growth. We're proud of these achievements, but we're not content. We have taken action to increase growth and profitability during 2022. In parallel, we're making a plan for the future.
Read more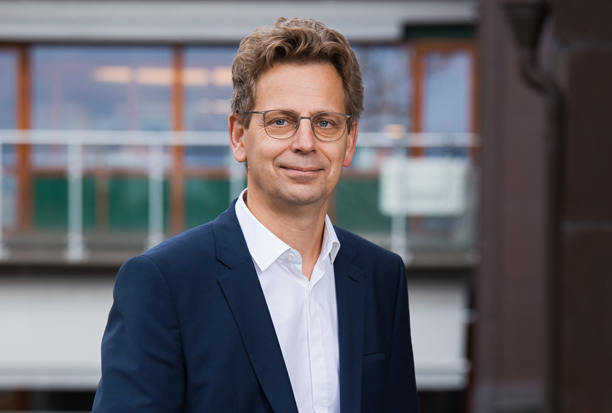 Targets
SUSTAINABILITY
Gränges has a group-wide sustainability framework which covers 13 material topics grouped into five sustainability pillars. Each pillar has an accompanying long-term commitment and targets for 2025. The targets below represent a subset of the 2025 sustainability targets.
Emissions and climate impact
Reduce carbon emissions intensity from own operations and purchased energy (scope 1+2) by 25 per cent. Reduce carbon emissions intensity from sourced metal inputs (scope 3) by 30 per cent.
Product stewardship
100 per cent of Gränges products to have third-party verified sustainability information available.
Sourced aluminium scrap
Increase the share of sourced aluminium scrap to at least 30 per cent of total sourced metal input.
Workplace safety
Reduce Total Recordable Rate to <3.0 recordable accidents per million hours worked.
Responsible sourcing and production
All sites to achieve certifications in accordance with the Aluminium Stewardship Initiative (ASI) Performance Standard and Chain of Custody (CoC) Standard.
FINANCIAL
Gränges should grow at least in line with the market, generate a return on capital employed of 15–20 per cent, have a net debt of 1–2 times adjusted EBITDA, and pay a dividend of 30–50 per cent of the profit for the year.
Growth
Increase sales volume at least in line with the company's end markets.
Return on capital employed
Generate a return on capital employed of 15–20 per cent over time.
Capital structure
Have a net debt which should normally be 1–2 times adjusted EBITDA over the last 12 months period.
Dividend policy
Pay a dividend of 30–50 per cent of the profit for the year. Decisions on dividends will reflect the company's financial position, cash flow and outlook.
This is Gränges
Gränges is an aluminium technology company that drives the development of lighter, smarter, and more sustainable aluminium products and solutions. The company offers advanced materials that enhance efficiency in the customers' manufacturing process and the performance of the final products. Gränges' innovative engineering has transformed the industry for more than 125 years, and the company holds leading positions in rolled products for thermal management systems, speciality packaging and selected niche applications.
Strategy
Product areas
Global presence
Aluminium
Value chain
STRATEGY
Gränges' purpose is to develop lighter, smarter and more sustainable aluminium products and solutions. Four key business drivers, together with people and culture, guide the way of working to increase Gränges' competitiveness and realize the strategy and the long-term business targets. Growth is a central part of Gränges' strategy, and the aim is to strengthen and grow Gränges' position in core markets as well as expand into adjacent and new areas of aluminium, organically as well as by acquisitions.
PURPOSE AND PROMISE
Gränges' purpose is to develop lighter, smarter and more sustainable aluminium products and solutions. The company's promise is to use expertise, flexibility and speed to deliver the needs of today and tomorrow. Gränges strives to constantly develop and to become more competitive when meeting the customers' needs, as well as to benefit society in large.
PEOPLE MAKE THE DIFFERENCE
People and culture are the foundation of Gränges' operations. The way Gränges' committed employees act in their daily work makes the difference for Gränges' success.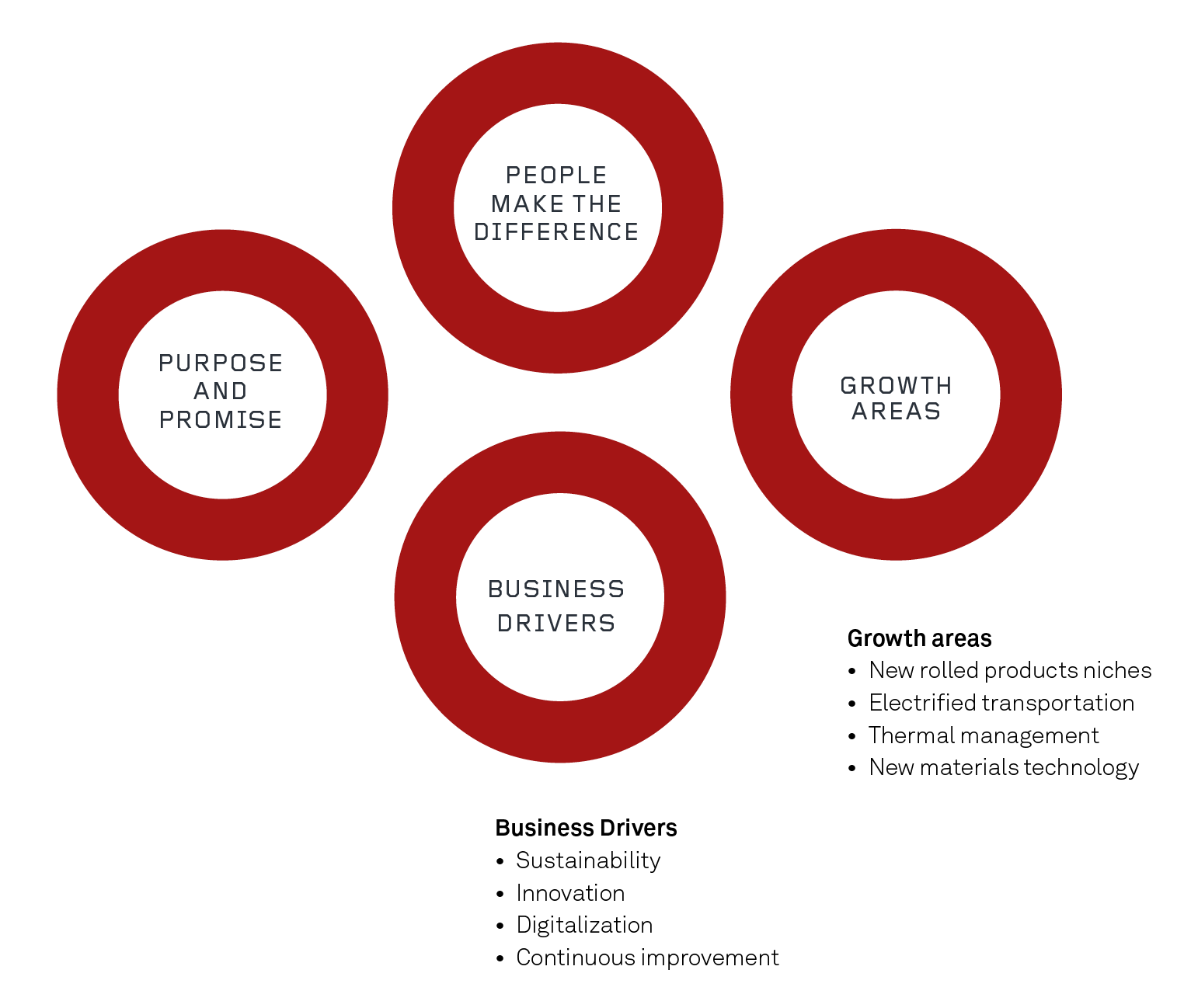 PRODUCT AREAS
Gränges' products are used inside some of the world's most demanding applications. The properties of the products, such as for example low weight and recyclability, support the transition to a more sustainable economy.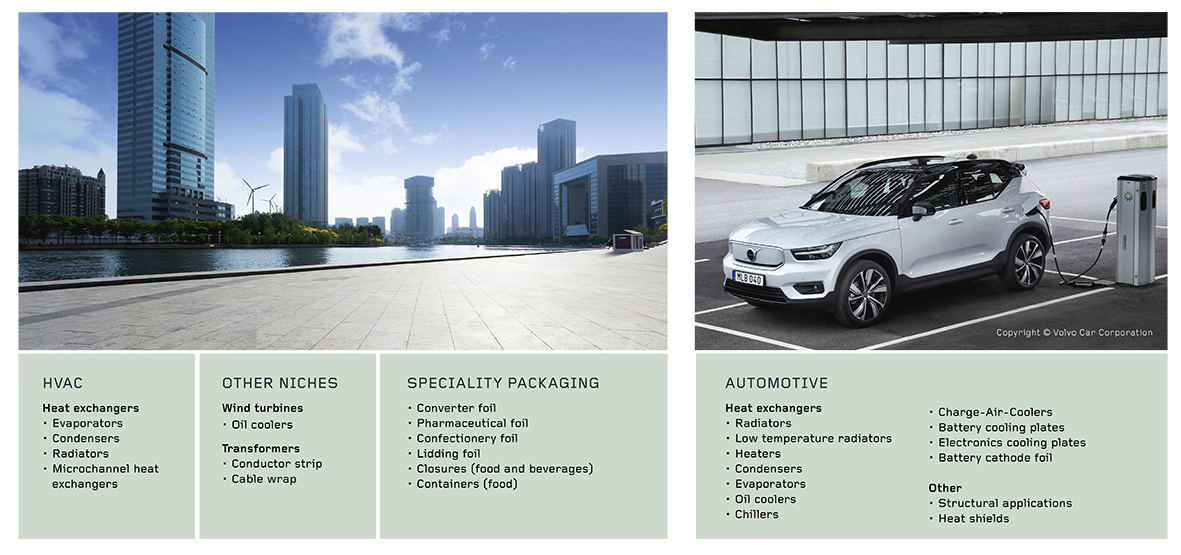 ASIA PACIFIC
Gränges has a leading position in rolled products for brazed aluminium heat exchangers in Asia Pacific. China is the main market and other key markets include India, Thailand, South Korea and Japan. In 2021, the automotive business accounted for 85 per cent (86) of Gränges' sales in Asia Pacific.
EUROPE
Gränges has a strong position in rolled products for brazed aluminium heat exchangers in Europe. The Czech Republic, Sweden, Germany and Poland are the largest markets. In 2021, the automotive business accounted for 51 per cent (74) of Gränges' sales in Europe. The acquisition of Gränges Konin in 2020 has created a significantly larger and more diversified presence for Gränges in Europe, and reduced dependency on the automotive market and global accounts.
NORTH AND SOUTH AMERICA
Gränges has a leading position in rolled aluminium products for HVAC and is the second largest supplier of rolled aluminium for brazed heat exchangers to the automotive industry. The company also has leading positions in niche markets such as transformers and food packaging. Main markets are the US and Mexico. In 2021, HVAC & other business accounted for 80 per cent (81) of Gränges' sales in North and South America, and the automotive business accounted for 20 per cent (19).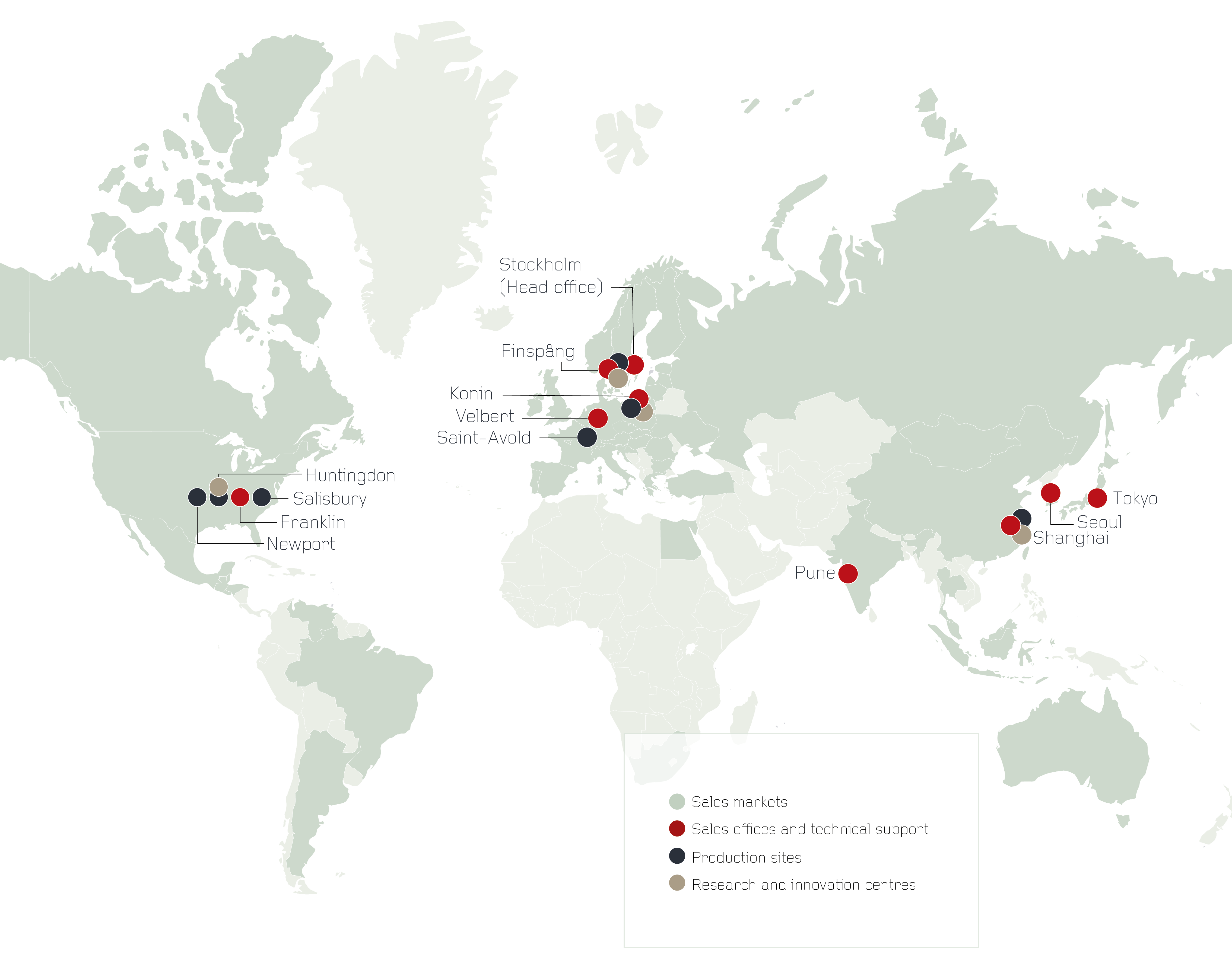 ALUMINIUM - THE GREEN METAL
• Light and strong
• Energy saving and infinitely recyclable
• Corrosion resistant and durable
• Versatile and can be used in different applications
• Impermeable to light and odours
Aluminium's unique properties support the transition towards a circular and sustainable economy. Gränges works to leverage these unique properties to design and manufacture sustainable products which have a low carbon impact, are circular and resource-efficient and are responsibly sourced and produced. This can improve customers' and end-users' sustainability performance from both an operational and product perspective. The company's products are for example used to produce lightweight vehicles, energy-efficient buildings and resource-efficient packaging which are all vital applications for the future.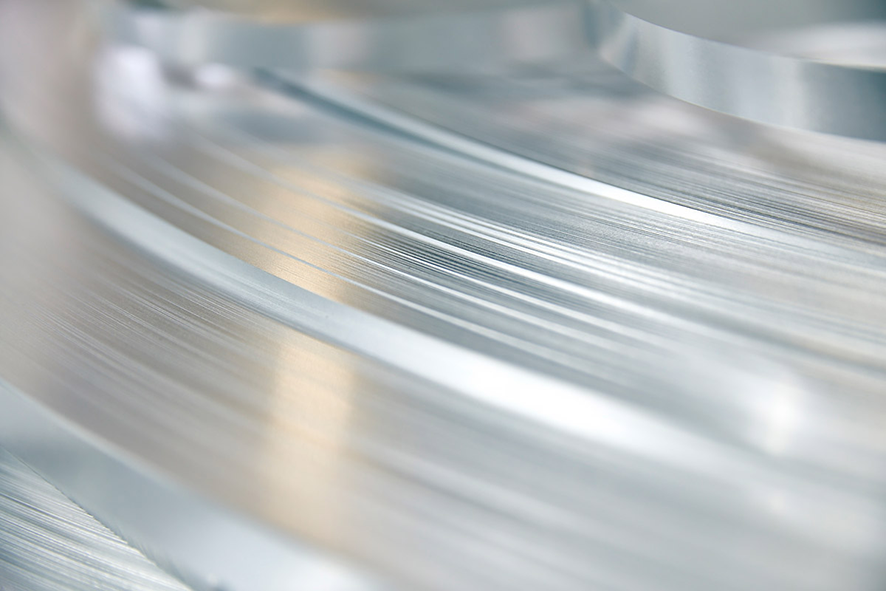 PRIMARY ALUMINIUM PRODUCTION
Extraction, refining and smelting of primary aluminium: Bauxite is extracted from mines and refined into pure aluminium oxide, called alumina. Molten aluminium is extracted from the alumina through an electrolytic process called smelting. Gränges sources primary aluminium through commodity traders and directly from smelters.
ALUMINIUM RECYCLING
Collecting, sorting and recycling of aluminium:Aluminium scrap is collected and sorted. Efficient systems are critical to help retain the value of the alloy elements in the loop. Gränges sources aluminium scrap from customers and recycling companies and strives to recirculate all scrap from its own production process. Scrap from products after usage (end-of-life) is also sourced, which is a clear positive contributor to a circular aluminium value chain.
SEMI-FABRICATION
Re-melting and casting, rolling and slitting:Gränges creates customized alloys by adding other metals to the molten aluminium in a re-melting process. The molten alloys are solidified into slabs in a casting process, and the alloyed slabs are transformed into coils and sheets in the rolling and slitting process.
PRODUCT MANUFACTURING
Customers use the coils and sheets sourced from Gränges to produce a range of products for improved efficiency and sustainability performance in different applications, including automotive heat exchangers, HVAC and speciality packaging.
PRODUCT USE
End-users use the applications containing Gränges' materials. Key uses include vehicles, systems for heating, ventilation and air-conditioning in buildings, speciality packaging, as well as aluminium foil in food packaging.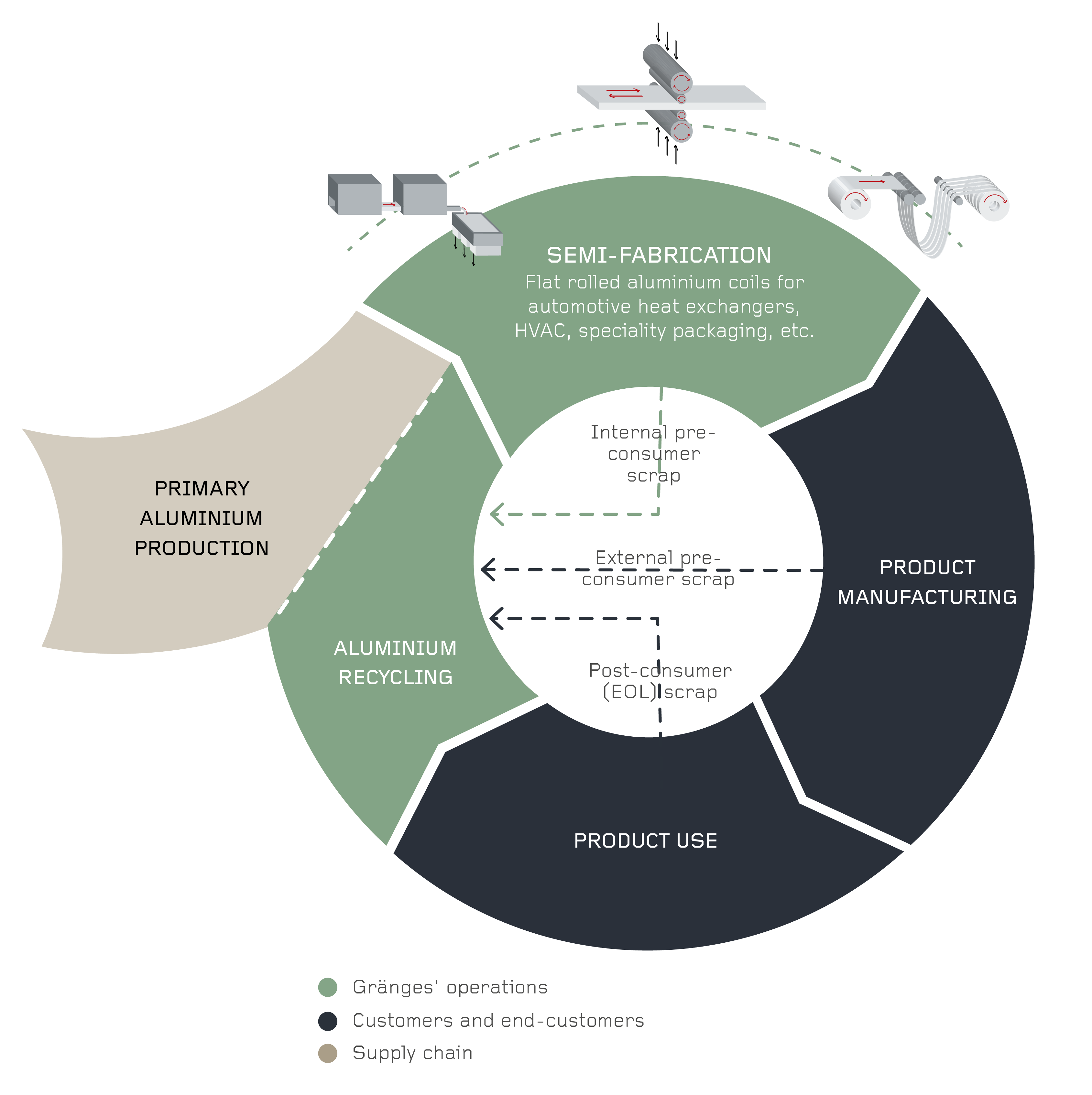 Sustainability
A STRONG COMMITMENT TO SUSTAINABILITY
By managing its business in a sustainable and responsible way, Gränges strengthens its long-term competitiveness and creates financial and operational value for the company and its stakeholders. Sustainable business value is achieved by reducing undesired impacts of the company's operations and at the same time enforcing positive contributions and opportunities that emerge from integrating sustainability aspects into the business and value chain.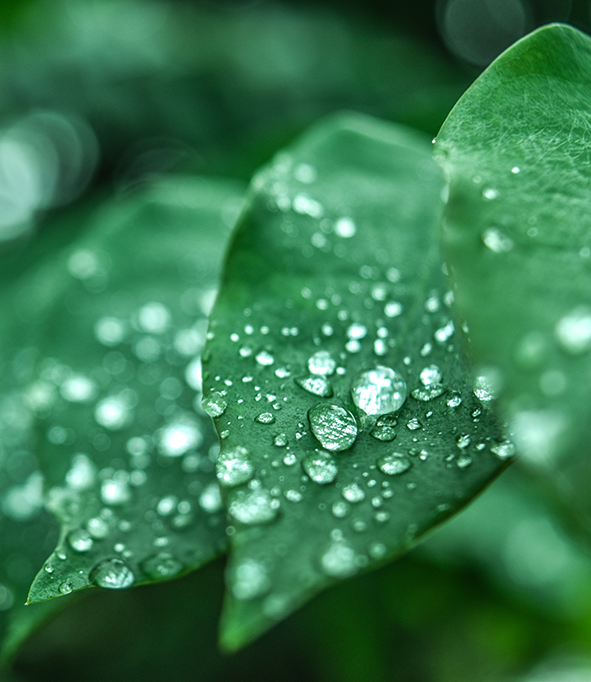 A selection of events and progress within Gränges in 2021.
125 years
125 years
A young company with a long history
The name Gränges is an old and well-established company name. In 2021, it was 125 years since Gränges was founded. In fact, Gränges still has the same corporate identity number as when it was founded in 1896. When the company was formed, it had its roots in railways and mines, but Gränges' history is a story of constant development and transformation based on society's changing needs.
Read more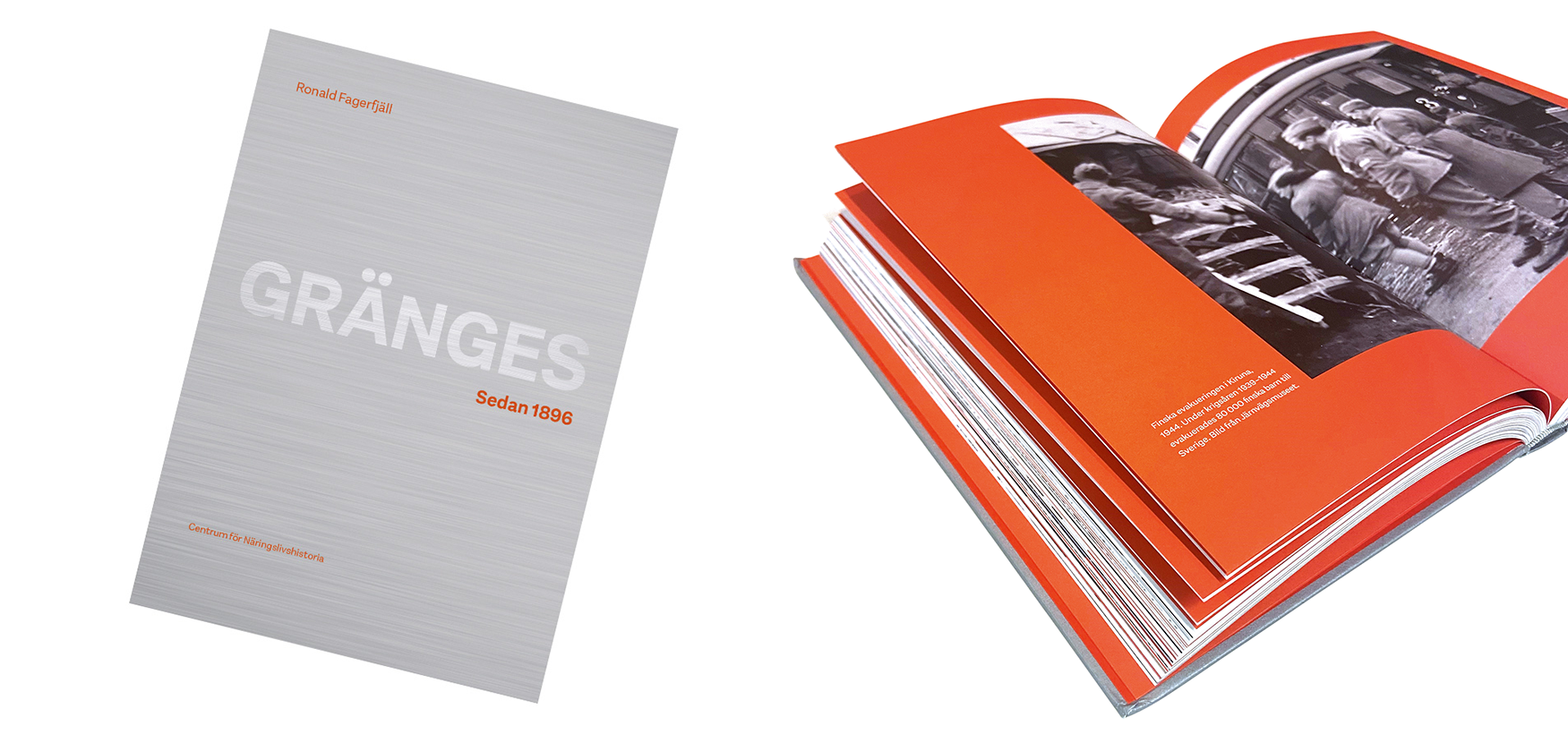 Download
Download
Download the complete annual and sustainability report for 2021, including financial information and sustainability report below.
Subscribe
Register your e-mail address to receive Gränges press releases, reports and newsletter direct to your inbox.