Sustainability
Gränges has a strong commitment to develop sustainable products, minimize the environmental impact of its operations, uphold ethical business practices, and provide a safe and good working environment.
A strong commitment to sustainability
By managing its business in a sustainable and responsible way, Gränges strengthens its long-term competitiveness and creates...
Framework and targets
Gränges has a group-wide sustainability framework which covers those 13 material topics that have the highest sustainability impact and...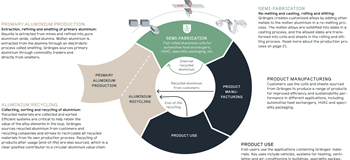 Value chain
Gränges strives to be a positive contributor to the circular economy and is committed to improving the overall footprint of the aluminium value chain.
Sustainable innovation and sales
Gränges' products contribute to increased business and sustainability benefits for customers and end-users.
Read more
Responsible and sustainable sourcing
Gränges promotes responsible and sustainable practices in its supply chain and works to incorporate sustainability criteria into its...
Resource-efficient operations
Efficient management of energy and materials is critical to Gränges as it improves the company's profitability, competitiveness, and environmental...
Diverse and high-performing teams
Competent and committed employees form the foundation on which Gränges can be innovative and competitive. By being an open and inclusive...
Ethical business practices
Gränges is committed to ethically sound business practices and operating in compliance with and beyond all applicable laws and regulations.
Read more