The Swedish heritage
Here are some highlights and important milestones from the past that has led to the creation of the modern Gränges of today - one of the world's leading and most innovative producer of advanced aluminium products.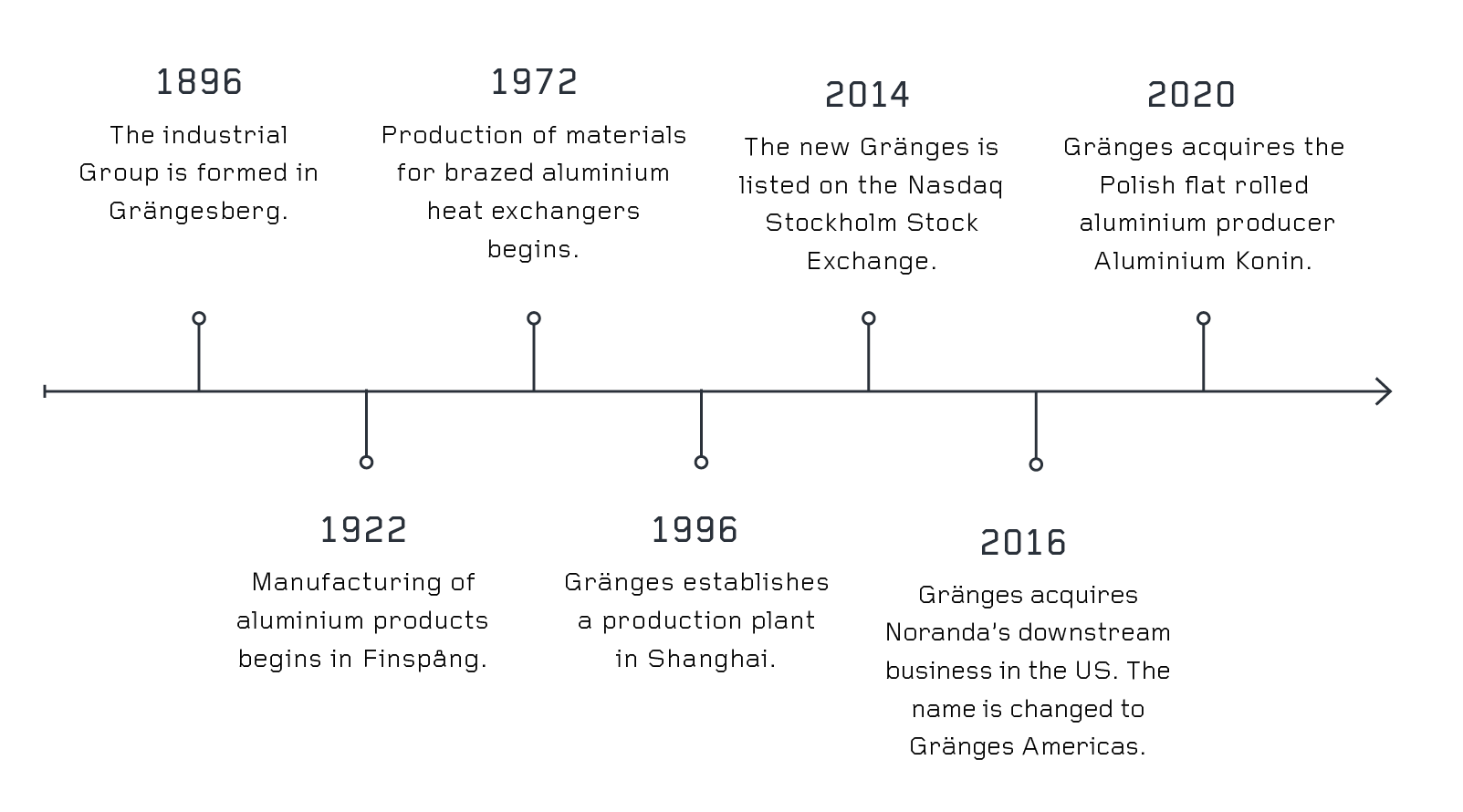 The foundation of our business was laid in 1896 in Grängesberg, Sweden. Thereafter, several different industrial enterprises became part of the Group, including Grängesberg mines, the TGOJ rail business, Oxelösund ironworks, and a shipping business. In 1969, the Group acquired Svenska Metallverken, which included an aluminium products business, an operation that would later evolve into Gränges. Our production of aluminum products began in 1922 and already in 1972 we began with production of aluminium heat exchanger strips in Finspång.
After the Gränges Group was acquired by Electrolux in 1980, a number of structural changes were implemented, resulting in the sale of most of Gränges' businesses. What remained was the production of aluminium products. A key milestone came in 1996, when Gränges established a global presence by opening a production plant in Shanghai. In 1997 Gränges was listed on the Stock Exchange in Stockholm and in 2000 Gränges changed name to Sapa.
In 2005 Sapa was acquired and delisted after Orkla ASA made a bid for the company. At that time Sapa had two lines of business: rolled aluminium products and extruded aluminium profiles. In 2013 the rolled products business took back the name of Gränges and in 2014 Orkla decided to list Gränges on the Nasdaq Stockholm Stock Exchange.
In 2016, Gränges acquired Noranda's downstream operations in the United States and the name of the acquired company was changed to Gränges Americas.
In 2020, Gränges aquires the Polish flat rolled aluminium producer Aluminium Konin and the name was changed to Gränges Konin. The same year Gränges also buys the remaining shares of GETEK and creates the business area Gränges Powder Metallurgy.