Reasons to invest in Gränges
In the last ten years, Gränges has increased sales volume by more than 200 per cent, and the operating profit even more. With our Navigate strategy, we target sustainable growth also going forward, and climate neutrality by 2040.
Three global trends create large opportunities for Gränges: supply chain regionalization, vehicle electrification, and sustainability. Gränges has embraced these trends by building a strong, diversi-fied presence in all regions, developing an ambitious programme for batteries and electric vehicles, and taking the industry lead in sustainability.
Well positioned to meet the growing market demand
• Strong presence in all major regions globally and technical leadership. maintain and deepen Gränges' long-term customer relationships.
• Strong position in attractive niche markets.
• Commitment to sustainability as a key business driver, industry-leading ESG performance and ambitious targets for decarbonization, recycling and responsible sourcing and production.
• Experienced, entrepreneurial, and empowered people offering deep expertise in innovative aluminum technology, solutions and operational excellence.
Financially attractive business model
• Long track record of stable cash generation and margins, high profit growth, and strong returns
• Proven success in driving sustainability and financial improvement side-by-side
Navigate strategy sets high ambition for sustainable growth
• Restore industry-leading financial performance
• Build the world's best aluminium technology company
• Invest in sustainable growth, including continued value-creating acquisitions
•… aiming at 15 per cent ROCE, >10 per cent profit growth, and climate neutrality by 2040


Sales volume and adjusted operating profit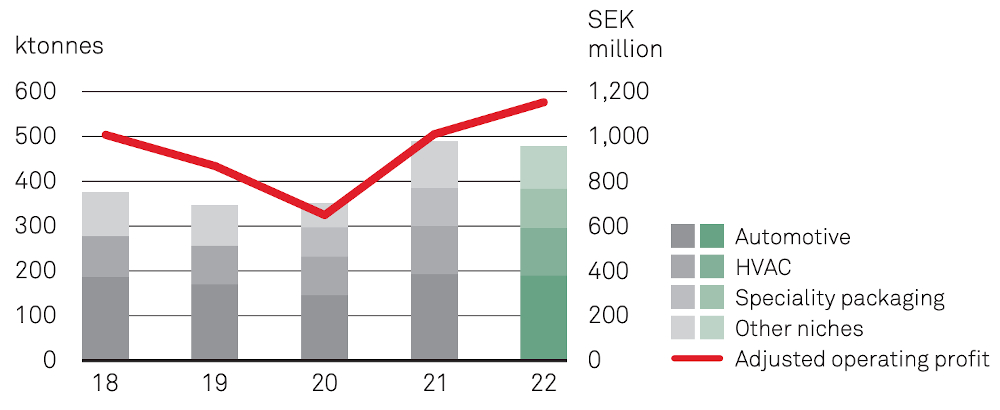 Total shareholder return vs index