Careers
We believe in the individual's contribution to the success of the company. Committed, action oriented, innovative and accessible represent our core values. As an employee of Gränges you will therefore have a high level of responsibility combined with distinct demands from the company.
At Gränges, you will come into contact with a large variety of people from all over the world and great diversity in terms of knowledge and experience.
Gränges is a global aluminium company that is specialised in advanced rolled products for the heat exchanger industry. Our success is based on strong industrial craftsmanship and highly motivated employees. As the research and development operations are located at the production facilities, in our lunchroom you can run into newly-employed professionals straight from university, third generation operators or a PhD in Engineering from another part of the world. This also represents our strength; different perspectives and fields of knowledge under the same roof wih a common goal – a successful Gränges.
The culture is relaxed but at the same time very professional. Close collaboration in the best interest of Gränges is a central part of our recipe for success. We collobarate intensively across geographical borders and among our various fields of competence. This creates exciting opportunities to explore new roles and environments. Both you yourself and the company are responsible for your career development and both parties should collectively review the next step in your career on a regular basis.
Committed, accessible, action oriented and innovative represent our core values. Through mutual respect for each other's knowledge and a strong focus on always making things smarter and better, we are developing our company together. This creates the conditions for the company's leading technical competence and for successful careers.
Health and safety has the highest priority at Gränges. We have a zero tolerance policy and a shared view in relation to health and safety that is based on communication, training, review and reward. Working at Gränges means being surrounded by proud, skilled and motivated colleagues – in a safe working environment.
Are you interested in becoming part of our team?
Don't hesitate to contact us.

Send your CV and a cover letter to:
China
hr.china@granges.com,
America
hr.americas@granges.com
Sweden
hr.sweden@granges.com

Related content
Available positions
There is always a need for competent co-workers in Gränges' organization. You will find our vacancies here.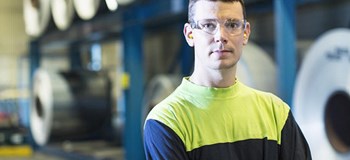 Student
Are you going to write your thesis? You are welcome to contact us to discuss collaboration.