A local guy with an interest in cars, boats and fishing

Meet Anton Ahldin, a maintenance electrician at Gränges' plant in Finspång. Anton started at Gränges two and a half years ago.
Tell us a little bit about yourself and your background
My name is Anton Ahldin and I live in Finspång. I've recently moved out from my parents' house in the village of Lotorp, just outside Finspång where I grew up. I did three years on the electrician and energy program at the local High School in Finspång.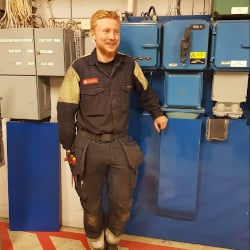 Anton Ahldin, at the plant in Finspång.
How long have you been working at Gränges?
I started working here immediately after I graduated from High School, which was two and half years ago.
Why Gränges?
During my internship on the maintenance department I quickly understood that I wanted to work here due to good morale among the electricians and the job itself felt great.
What is you role/position at Gränges?
I work as one of the daytime maintenance electricians at the maintenance department here in Finspång. Our main role is preventative maintenance and new installations.
What does a typical day look like for you and what are you currently working on?
A typical day starts around seven o clock in the morning. I go through what planned stops there will be during the day and what tasks we must do on the machines. Thereafter, I start preparing materials and tools etc. The typical tasks are upgrading or improving the current facility or other preventative maintenance measures such as inspection for damaged electrical equipment, cables, sensors etc. Some days includes unplanned stops (breakdowns), urgent repairs and or troubleshooting on the machines. The days can differ a lot, which I appreciate very much. Under normal circumstances the day ends around four o clock in the afternoon. I am currently working a little bit more towards the estate jobs, new installation of power outlets and new or upgraded lighting.
What do you like most about your job? What's the best with working at Gränges?
What I like most is that none of the days never look the same. There is always new tasks and it can vary a lot; therefore, you learn something new nearly every day. You are never getting tired of doing the same thing every day.
If you could change one thing about working here, what would it be?
I wish we had more time to drink coffee and "fika".
What do you do when you're not at work?
On my free time I like to work on cars and sometimes on my boats. Another big interest of mine is fishing, especially during summer and early spring.