Our people, reshaping your future
Gränges' business model is based on long-term customer relationships. Revenue is generated through sale of material that is produced for a certain customer and application. Prices are expressed in metric tonnes and are based on the added value that Gränges offers in terms of material properties and production complexity, and the price of the raw material; aluminium. The cost for the material is passed on to the customer.
Gränges' position in the value chain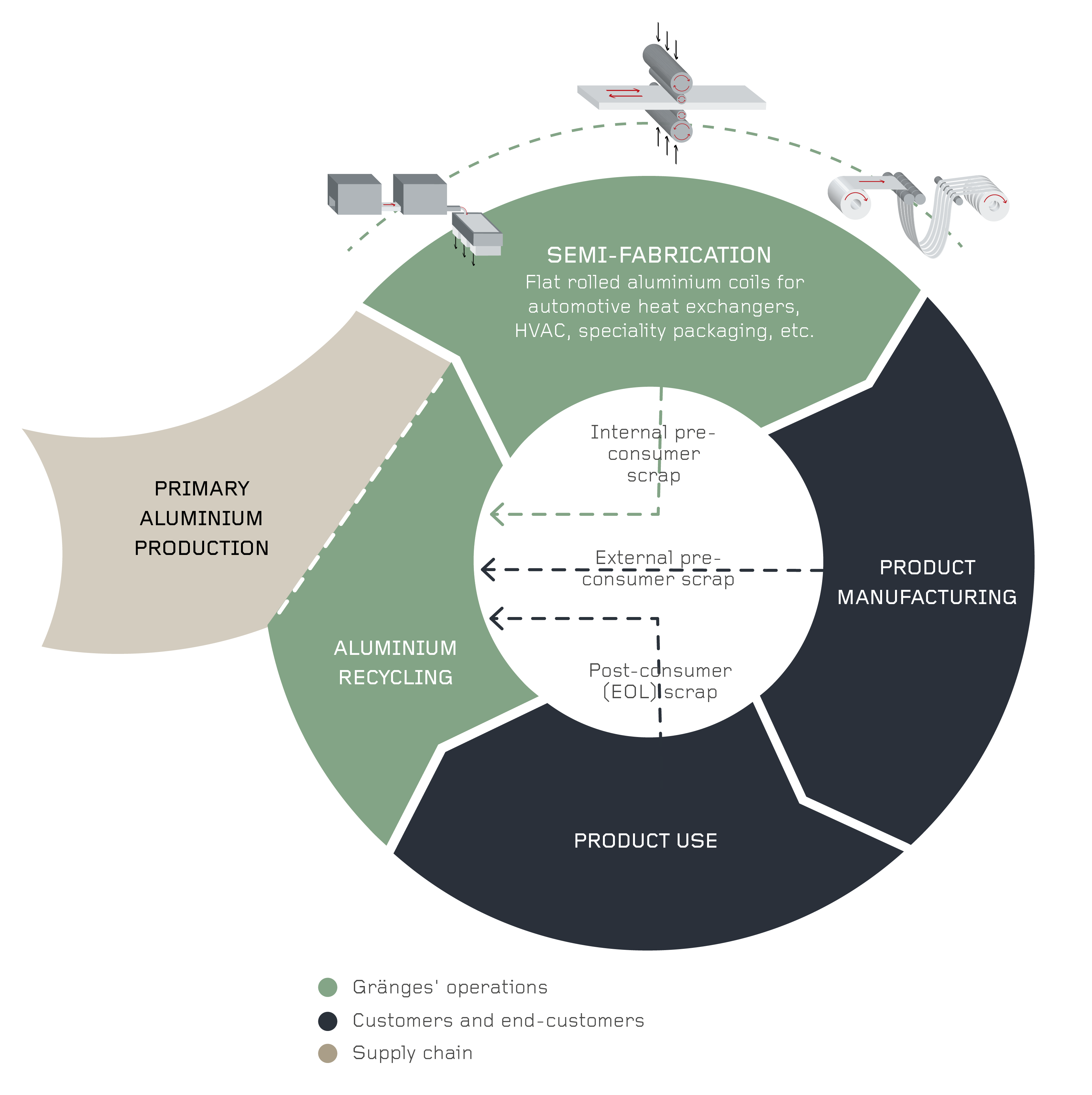 A customer-focused business model
We support our customers with research and innovation, product development and technical support throughout the product's life-cycle. Material properties and design, which are our core competences, contribute to the efficiency and sustainability performance of customers' products and processes.


Strong customer relationships
Our long-term customer relationships are characterized by customer-driven development and close collaboration, with a strong focus to meet the customers' needs for reliable, sustainable and high-quality products. Business relationships are typically long-term and a majority of our customers have been with us for more than ten years.
Strong experience and expertise
Our many years of specialization in developing and manufacturing of advanced rolled aluminium products have built up significant experience and expertise in material characteristics and manufacturing processes. We collaborate globally to share best practice, valuable knowledge and experience.
A strong commitment to sustainability
By managing our business in a sustainable and responsible way, Gränges works to strengthen our long-term competitiveness and create financial and operational value throughout the life-cycle of aluminium. Sustainable business value is achieved by integrating sustainability into the company's core business and strategy.
Technical leadership
We have world-leading expertise in metallurgy and understanding of the production process, particularly in the development of alloys, hot rolling of clad materials, thermo-mechanical processing, and slitting. Product developers and engineers work closely with customers to optimize the interaction between the materials and customers' machinery and processes.
Specialized and lean manufacturing
Our production facilities are optimized according to the lean principles. Our production is demand-driven, and we have a strong focus on continuous improvements to increase productivity, process stability and efficiency, while reducing operational waste. Our own concept for lean manufacturing, Gränges Production System (GPS), is implemented in all production plants.
Proven revenue model
We generate our revenue by selling advanced materials manufactured for specific customers and applications under long-term contracts. Pricing is based on the added value that Gränges provides in terms of material properties and product complexity. The cost of aluminium, which is the primary input material, is passed on to customers.
If there is a time lapse between the price terms for purchased and sold aluminium, Gränges applies financial hedging to minimize the impact on the result from the raw material component.