Problem solver with a passion for science and technology
Meet Nolan Williamson, Mechanical Engineer at Gränges Americas plant in Huntingdon, Tennessee. Nolan enjoys the feeling of solving complex problems.
Tell us a little bit about yourself and your background.
Like a lot of mechanical engineers, I have always enjoyed taking things apart, understanding how they work, and getting it back together like it was never apart. This interest, combined with a passion for science and technology lead me to obtain a bachelor's degree in Mechanical Engineering from the University of Georgia. While I enjoy the feeling I get solving complex problems, I also enjoy the outdoors. I enjoy hiking, camping, fishing and hunting whenever I can.
So, why Gränges?
I lived most of my life in Georgia, but I spent a few of my early years in Tennessee, and always felt that someday I would go back. I started searching for growth opportunities within the aluminum industry, and when I found a quickly growing aluminum company in Tennessee, it didn't take a whole lot of convincing. When I visited the plant for the first time, I instantly felt welcomed and knew that this would be my new work-family.
What does a Mechanical Engineer do? What's your scope/objective?
Nolan Williamson, Mechanical Engineer at Gränges Americas plant in Huntingdon, Tennessee.
Mechanical engineering is a very broad field, and essentially covers everything that moves, but doesn't have a heartbeat. It also covers most things that transfer mechanical and thermal energy. Mechanical engineers exist to solve problems, whether it is increasing the reliability of a machine or designing a new one from the ground up.
What does a typical day look like for you and what are you currently working on?
My primary focus is the Casthouse. I manage the lifecycle of the caster rolls, working with suppliers to get the cores repaired, and new shells mounted on the cores. I am currently learning the unique processes around furnace rebuilds and refractory maintenance. My projects range from burner upgrades to finding new ways to feed recycled material into our existing melting process.
What do you like most about your job? What's the best with working at Gränges?
The people at Gränges are what make the company unique. I have never seen another manufacturing facility where everyone seems to respect one another and work together for a common goal. The plant feels like a large family, and everyone is always ready to lend a helping hand.
Are there any trends within your field you can tell us about?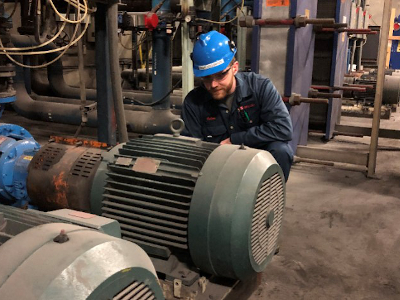 Lately there has been a lot of new, "smart" equipment being brought into the manufacturing field, and this interconnectivity is being referred to as "Industry 4.0". This so called 4th industrial revolution centers around the connection of equipment, and the introduction of data processing and machine learning. This push has blurred the lines between data science, programming and, mechanical engineering, as professionals in these fields are learning cross-disciplinary skills to be able to maintain and implement these new technologies.
If you could change one thing about working here, what would it be?
Unfortunately, I think a lot of "tribal knowledge" is being lost as experienced operators and maintenance personnel move between departments and reach retirement age. I would love to find a way for these experienced individuals to pass along the skills they have worked so hard for so long to develop. Passing along this hard earned knowledge helps establish a legacy for those who pass it down, and helps less experienced individuals by giving them a framework to build off of.
And finally, what do you do when you're not at work?
I love working with my hands and learning new skills. I have a constantly growing list of projects, from microcontrollers to log-splitters. I enjoy metalworking, electronics, cooking and spending time with my girlfriend.