In full control

Checked by Nate. With 46 years of experience from the aluminium industry, Nate Davis today oversees that everything is produced in the right order, machines are running, and the trucks are loaded at Gränges' production facilities in Salisbury.
Light metals heavyweight
When Nate Davis entered the aluminum production facility in his hometown of Salisbury, North Carolina at just 17 years old, he didn't know it would be the start of a lifetime of learning about the exact science of quality control in the light metals industry.
"I was hired on the spot straight out of high school in 1973 at the number one employer in town. That's how it all began for me," says Nate Davis explaining the start of his 46-year career in the aluminium industry.
"My brothers worked for Southern Railway, but I came to the aluminium rolling mill. I got a decent salary that I could raise a family with," he remembers.
It was a very small operation from the start, with between 50 and 60 employees.
"The first plant I worked at became the Salisbury rolling mill. Six months after I had been working here, I was laid off for 10 months. It was a good lesson. I realized that I needed to have other ways to earn a living in order to support my family", Davis says. "I started a commercial cleaning company, in addition to the job at the aluminium mill".
Davis ran the commercial cleaning company for 24 years, working two jobs while his wife Marlene completed her university degree.
"My wife graduated cum laude with a degree in Business Administration," he says proudly.
Fast forward to 2019, and Davis is a walking encyclopedia of the industry that has formed his professional career. He has seen the shift from small-scale labor-intensive processes to increased production volumes, with new skillsets required of employees and the move to automation.
"This plant has had 9 different owners since I've worked here," he says. "We've never closed the plant completely, and the changes have been positive with each new owner. The plant has also grown, with 199 full time employees today," he notes. In the early days the company made battery foil for Duracell batteries.
The first plant I worked at became the Salisbury rolling mill
- Nate Davis, Inspector

They had a science lab and Davis was asked to start working with quality control.
"We had all the formulas to make acid, and all the ingredients. We had a 99.9 percent return on investment for our metal, because there was no scrap," he says.
"I really enjoyed that part because that's science and I came straight from high school to this job, so I learned my science on the job".
Davis tested and confirmed that the quality was acceptable, then identified if there were any issues to be addressed with the production.
Today Davis works for Gränges, and the plant produces nearly 7 million pounds a month, with a primary focus on light and intermediate gauge foil products.
Davis also checks that everything is produced in the right order, machines are running, and the trucks are loaded.
"My record for shipping and receiving is 27 trucks in one day," he says.
Outside work Davis spends much of his time with his family. On Sundays after attending church the menu at the Davis house includes chicken or roast with all the trimmings: green beans, collard greens, mac and cheese. "My lady can flat out cook. I especially love her red velvet cakes and her desserts," he says.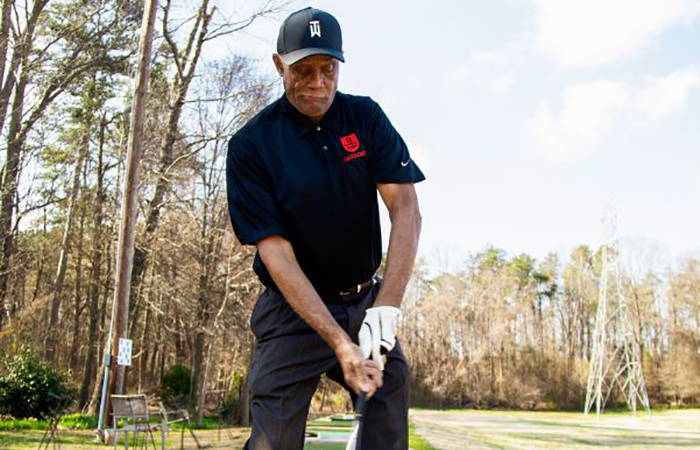 Golf a big hit. Nate Davis's lifelong passion is golf, and he has attended many of the major professional
tournaments held in his area.

Nate Davis
Age: 63
Title: Inspector-boxer
Background: 46 years in service with 40 of those years spent working in Quality control
Personal interests: Playing golf and watching sports. He once had a chance to play golf with basketball legend Michael Jordan.
When in Salisbury don't miss: North Carolina's tourist attractions: state capital Raleigh, Charlotte, legendary PGA golf resort Pinehurst, and Lake Norman, all a short drive from Salisbury. The Smoky Mountains and Myrtle Beach are 2 hours away.