Looking for the big catch
He started his career at a paper machinery company and then an ice cream factory, but once YueMing Wang found out about a job at Gränges' Shanghai site, he knew he was up for the challenge.
It's now 15 years since YueMing Wang started a completely new career. Today his main tasks are maintenance and Gränges' production system (GPS), both fundamental areas in the company's operations.
"I am always willing to take on different challenges. I applied for my first position at Gränges' Shanghai site, which required a lot of experience with production equipment. But actually, I didn't have any experience in this industry at all before joining the company as a maintenance manager," says Wang.
When he started at Gränges in 2004, Wang was immediately involved in the continuous build-up of the maintenance management system. Before 2010, the Gränges Shanghai facility's main challenge was lack of capacity, so during these years, Wang says maintenance worked hard to improve machine availability and implemented a number of improvement projects, as well as taking new machines into operation.
"There was an increase in the capacity of production and in our production equipment, so maintenance had to work hard to maintain the machines. But thanks to the maintenance system that was well organized, we were able to do a lot of work very efficiently with almost the same amount of people," he explains.
Today, Wang notes that the overall performance of maintenance is being greatly improved. He also credits having a "stable maintenance team with the desired competence and commitment to the work" as an important factor along with the GPS, 5S, visualization, daily management, and GPS initiatives that are all now in place.
"My team is very good at doing everything right," Wang says, smiling.

In the right direction. "The company culture is changing in a positive way. There is very good cooperation between production and other support functions, and continuous improvement in everything we do," says YueMing Wang (left).
When GPS began in Shanghai in 2017, Wang was nominated as the coordinator for Gränges Asia. After early initial GPS assessments and analysis examining the challenges and potentials, as well as the development of a GPS pilot machine for productivity improvement, key GPS machines were set up in 2019.
"GPS is not a project, but a culture to follow."
"We see the link between production and other support functions as one team. This includes everyone. GPS has also helped to improve the culture. GPS is not a project, but a culture to follow," he says.
He is a Passionate fisherman, but work is also high on YueMing Wang's agenda:
"As a maintenance person I can come to the company within 20 minutes whenever I get a phone call for on site troubleshooting."
When not at work Wang likes to play golf. He is also a keen fisherman, with a love of extreme adventure that is the stuff of legends. He's been in the far eastern part of Russia on a fishing adventure that involved five connecting flights, a three-hour truck ride through a forest and finally a two-hour boat ride to reach his forest campsite located by a stream. There were no other people in the remote location besides him and his party of likeminded fishermen, but there were many footprints of the bears hiding in the forest round the stream.
"Due to the potential risks, my wife and son won't allow me to do such crazy fishing trips anymore", he says. "Even though I still wish to have the opportunity to go to the Amazon forests for fishing."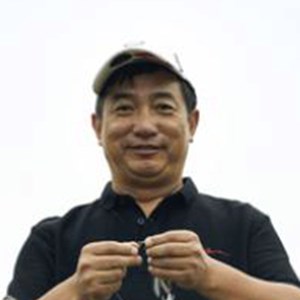 My wife and son won't allow me to do crazy fishing trips anymore.
- YueMing Wang, Maintenance Manager and GPS coordinator
About YueMing Wang
Age: 53
Title: Maintenance Manager and GPS coordinator
Background: Graduate of Jiangsu University (1988), metal material and heat treatment major. Joined Gränges in 2004.
Personal interests: Golf, and extreme fishing and exploring in remote areas. He once spent five days and nights on a 100-foot small boat fishing on the Pacific Sea without any communication.
Bonus information: His given name means 'bright moon' in Chinese.