Mutual benefits from internship
Two young female senior high school graduates did the facilities in Finspång a great service when they developed 43 fixed programs for target temperatures in the rolling mill furnaces during autumn 2018. There has been a need for this for a long time, so when Lovisa Andersson and Filippa Eklund, applied for the "Technology Leap" program, arranged by the Swedish Royal Academy of Engineering Sciences, Gränges gladly enlisted their services.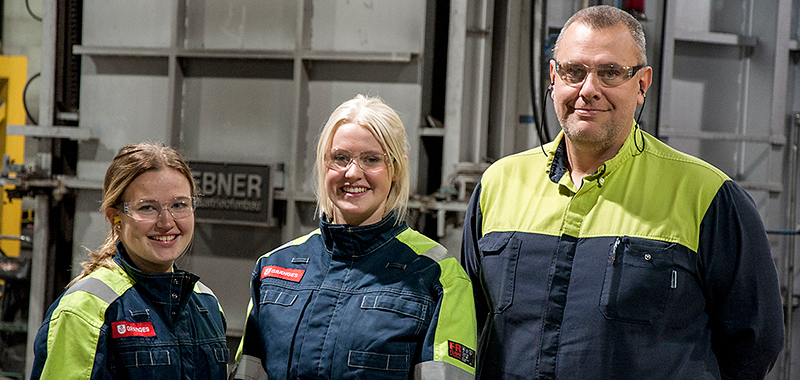 Lovisa Andersson and Filippa Eklund with Martin Pernehed at the rolling mill furnaces in Finspång.
"They did a fantastic job in just a few months," says their supervisor at the rolling mill, Martin Pernehed. "The girls' programs have been extremely well received by everyone involved, and now the operators want more programs."
And the students were equally enthusiastic about Gränges: "After my internship at Gränges I know for sure that I want to major in some type of engineering," says Lovisa Andersson.
The Technology Leap is a program that gives students a chance to explore the engineering profession and Gränges is the only company in Finspång to offer it. The company's aim for participating is to ensure the supply of competent and committed employees for the future.