A natural solution
Gränges Shanghai's cast house is reducing costs and improving productivity by achieving more control of the natural gas flow in the casting process. This initiative earned a joint production and technical project team a nomination in the 2018 Company Awards.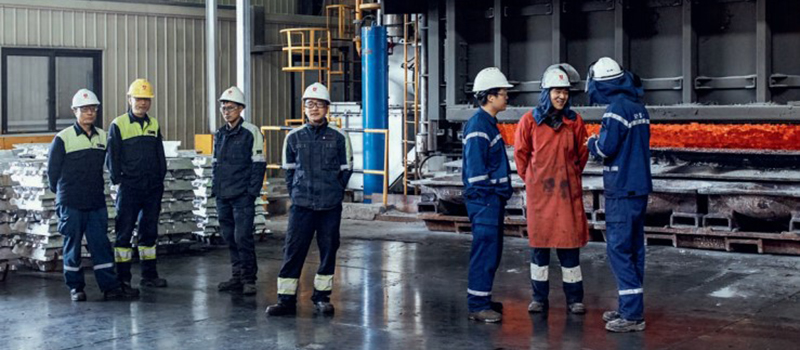 A joint team from production and technical managed to optimize the gas flow in the cast furnace: Jian Chen, Aiming Gu, Jiawei Yuan, Haidong Wang, Jinxin Qiu, Xiaobo Lu and Jin Wang. Absent team members: Jiong Gu, Lijun Zhou, Dongshen Yin, Yun Lu and Qing Ye.
In recent years, the market in China has become increasingly competitive. The ongoing challenge for Gränges Shanghai is to reduce manufacturing costs to maintain our price competitiveness for customers. In addition, Gränges' Shanghai operations must adhere to the Shanghai Energy Conservation Regulations, which require the company to work with energy efficiency and new energy solutions.
I think our success was due to team spirit, with project team members from different fields.
- Wang HaiDong, casting supervisor.

Much of the energy use comes from the furnaces, where aluminium is re-melted either via direct combustion or induction. Gränges Shanghai's cast house team and technical colleagues responded admirably to those challenges with a casting solution that makes for cost savings and more sustainable production.
The cast furnace in Shanghai, where the raw materials of aluminum ingots, pig metal and additives are melted into aluminium liquid to be cast into slabs, is powered by natural gas. But there can be an imprecise flow that uses up a lot of energy, sometimes interrupting production, and adding to costs.
"We knew that natural gas consumption made up a large proportion of the production costs in the cast house," says casting supervisor Wang HaiDong, who led a project team of colleagues from both the production and technical areas.
"We looked at the ratio between natural gas and air in the production process, then asked some colleagues in the technical department to identify where we could reduce the consumption of natural gas by optimizing the gas flow," he adds.
The team's solution was simple but extremely effective: by changing the valve on the burner to a scale valve, they could optimize the natural gas flow. A consistent flow with precise control of the process means less waste, saving on energy use and costs.
The project team also added an alarm that sounds whenever there is a "flame out", where the flame is extinguished in the combustion chamber. "By adding the alarm and finding out the impact it has on site operators, we have improved the machine's uptime, giving us better burning performance," explains Wang.
Thus, melting efficiency and product quality have continued to improve, with fewer gas emissions, reducing the environmental impact. The performance metrics are impressive (see separate fact box).
"I think our success was due to team spirit. The project team members are professionals from different fields, but they all worked well together and made great contributions to achieve our goal," says Wang, who adds that by having a clear goal and joint focus at the outset, project teams throughout the Gränges family can achieve real improvements.

Impressive performance metrics
- Reducing gas consumption by 0.4 million cubic meters a year (five per cent less than 2016)
- Increasing slab production by 4,500 tonnes
- Annual cost saving of 1.2 million RMB (equivalent to 1.7 million SEK; 180,000 USD)
- Achieving two of Gränges' 2020 Strategy targets: Creating value through sustainability; Increasing efficiency through continuous improvements