With new US tariffs on certain Chinese products, including those previously imported from Gränges' Shanghai plant, it is no longer business as usual. But it's not all bad news: this business has been transferred to the company's US plant in Huntingdon, Tennessee. The shift has been a great opportunity for Gränges Americas, boosting production and significantly contributing to Gränges' financial performance. But the production methods used in Gränges' US facilities are not the same as those used in China (or Sweden), and the alloys produced are different. Continuous casting is the only method used in the US, while in China and Sweden, direct chill casting (the more costly slab-rolling method) is the norm.
Alberto Cruz, Technical and Quality Manager at Gränges Americas, says: "Gränges International Incorporated (GII) had to investigate what could be done with the alloys produced in the US to accommodate the immediate needs of customers here." They chose to focus on developing a new series of unclad plate fin products for use in radiator heat exchangers by automotive industry players. With Vice President for Strategy, Sales and Marketing Brad Thomas as GII team leader and General Motors (GM) as Gränges' principal customer in this segment for the time being, the job of preparing two new alloys (namely the 3003-H14 and 3003-H16) to meet GM's needs was intense.
"We had to develop the appropriate routings, and our expert metallurgists Richard Davis and Scott Haller worked on figuring out the right annealing cycles to meet GM's specifications," says Cruz.
"Samples had to be sent to Vincent Gao at our Shanghai plant and Ning Wang at Finspång in Sweden for validation and approval before forwarding them to GM for inspection. The whole process involved in finally getting the contract signed took six months. All for just one customer!" So far, 1,665,000 lb (755 tonnes) of the new materials has been produced, with a forecast of 4,250,000 lb (1,900 tonnes) by the end of 2018. Cruz is keen to point out that none of this would have been possible without the dedication of the entire cross-functional international team.
"Investing in innovation is an essential part of growth for any company," he says.
"Without it, companies become obsolete and fail to attract the customer and the best new employees, and also fail to achieve their financial goals." The team in Huntingdon is now working on three further alloys for six other automotive parts manufacturers. One thing is for sure, says Cruz:
"Getting into a niche market like this is key to Gränges' future success."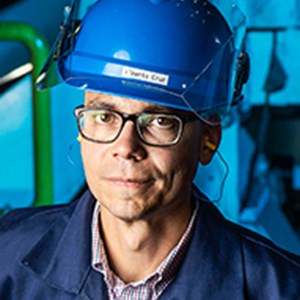 Getting into a niche market like this is key to Gränges' future success.
- Alberto Cruz, Technical and Quality Manager at Gränges Americas