Great interest in new Trillium generation
The second generation of Trillium was launched in late September. It is a further development of the product that eliminates the use of flux by Gränges customers, while improving the production process and performance of brazed heat exchangers made of aluminium.
"While the first generation was really a research product that entered the market without too much promotion, the newly developed product has every prospect of revolutionizing the market on a broad front," says Richard Westergård, manager New Material Technology at Gränges in Finspång.
In principle, he has been involved from the beginning in 2006 in developing Trillium, which until 2009 was completely laboratory-based.
"Today, all of our customers know about the material and those who have had the opportunity to test it agree that Trillium is a problem solver. It solves all kinds of brazing problems."
The greatest feature of both the old and the new generation of Trillium materials is that flux is no longer needed in brazing.
"Traditionally applied flux wears down the customer's equipment and can fray conveyor belts and dissolve ovens from the inside. Using it and dealing with its side effects is expensive. In addition, inhaling fluoridecontaining dust particles can be hazardous to health. With our material, customers can braze without adding flux, which helps solve several environmental problems. Reducing flux residues in the material is also a requirement from many of our customers' customers," says Richard Westergård.
The solution as such also means that Gränges' customers save time and, perhaps more importantly, money.
"We've developed a product that is more commercial than previously. The material provides the same benefits as the previous material, but now at a significantly lower cost," says Mikael Pettersson, VP marketing & sales.
Account manager Peter Hamnäs agrees.
"During our customer visits, it has become clear to customers that they can actually save money in their processes – that they really do achieve cost optimization. Before, the material was a bit too expensive, which meant that Trillium became something of a niche product. This is no longer the case. In addition, we have received feedback that Trillium has a quality-enhancing effect."
The customer RAAL in Romania has already approved the material for its own series production, and this autumn and winter more customers will be climbing on board.
"We've applied for and received patents in all regions where there is meaningful production of aluminium and heat exchangers. Interest is strong in Asia, Europe and North America. There are extremely high expectations on the market," says Mikael Pettersson.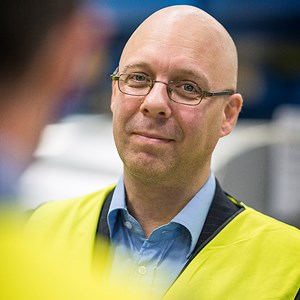 The customers who have had the opportunity to test it agree that Trillium is a problem solver.
- Richard Westergård, manager New Material Technology, Gränges in Finspång