Innovation by increasing business and IT collaboration
We met up with Dipanjan Roy Chowdhury, Global IT Application Maintenance & Development Manager at Gränges and talked to him about how and why innovation is important.
Tell us a little bit about yourself and your background
I joined Gränges in August 2017 as Global IT Application Maintenance & Development Manager. I started my carrier as IT-developer and then played several roles in solution architecture, testing, service management and leadership roles. In my carrier, I have worked on several international assignments in the area of ERP and business-IT collaboration. In my previous assignments, I have been associated with industry branches like transportation, pharmaceutical, healthcare, consumer goods. From personal front, I live in Stockholm with my family. I like to exercise my hobbies in my spare times.
So, why Granges?
I joined Gränges in a period where Gränges was about to start its journey towards Common business platform, through which the aim has been to work on future definition of business logic, process improvements and future IT solutions. I have had extensive previous experience in working in these areas and I could see that I could contribute to a great extent in this journey. So, it was a great opportunity for me to be part of Gränges. Gränges is a global leader in aluminum engineering and innovation and it feels very good to be part of such a valuable organization.
What does a Global IT Application & Development Manager do? What's your scope/objective?
My role at Gränges is to support and be part of Gränges strategy through the implementation of new business applications and digitalization that are being implemented at Gränges head quarter as well as in the regions, in close collaboration with the business and IT stakeholders. The application team also provide continuous support after implementations. Apart from the implementation of new IT applications, I am also working very closely with key stakeholders from business and IT, to establish sustainable business-IT collaboration model for the common business applications. In the recent past, my key focus was to work on one of our large business-IT initiatives at Gränges Europe that included implementation of new ERP system, new production system (MES) as well as implementation of new IT infrastructure in collaboration with the Gränges Europe team. This has been a very challenging initiative, where all stakeholders starting from management team, the business team and Gränges IT team on the ground have done a phenomenal work.
Our goal is to ensure work closely with business, understand business challenges, resolving business challenges in effective way. We also take part in and execute business-IT initiatives like digitalization, IT security, ERP, MES implementations. We strive to contribute to innovation by creative and continuous development process.
Taken up additional responsibility of project portfolio management with focus of group level initiatives.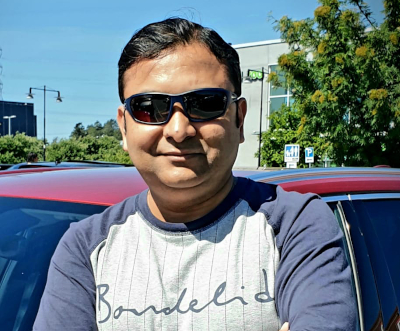 Dipanjan Roy Chowdhury, Global IT Application Maintenance & Development Manager at Gränges.
What does a typical day look like for you and what are you currently working on?
Our team provide continuous support to our business as well as we work on the projects and new initiatives, therefore a large part of the day involves working with business and key stakeholders, where planning and execution is a big part both in terms of daily support as well as running the projects. As I mentioned before, we are working on to establish a robust business-IT collaboration (delivery) model according to Gränges group strategy, a part of which is already in place. We work according to the collaboration model, where we work together with management teams, line managers and super users to be able to provide best possible support.
Currently, I am working on stabilization of the post Gränges Europe implementation and parallelly we are working on to establish the business-IT collaboration model, which is Center of Excellence.
As change management process owner, I am also working together with our Group and IT regional teams to establish an end-to-end change management process that shall be supported by a tool that Gränges has implemented. We are also preparing for go live of new HR solutions.
What do you like most about your job? What's best about working at Gränges?
I like to work closely with the stakeholders. Business & IT teams play a very important role in my area and scope of work. I like to contribute by assisting the business to deliver best possible IT solutions by taking part in end-to-end delivery process, starting from initiating requirement work, making appropriate decisions and up until solutions are realized. I also like to work on taking up new challenges, address large, complex business topics, where IT can play key constructive role delivering best in class solutions. With the introduction of common business platform program, IT is getting more and more integrated within the business. Therefore, from application standpoint, we remain always accessible and committed to support our business to achieve our desired goals and strategy.
Are there any trends within your field you can tell us about?
Yes, Digitalization. The work that we are doing in the application area, are the building blocks for digitalization. Simultaneously, focus has also been on automation. The application strategy is changing due to the changing nature of IT landscape. In our case, we have hybrid eco-system where IT systems are spread across in cloud, on-premise, off-premise etc. which requires change in application strategy, thereby change in application portfolio as to how we deliver our solution in agile way, how fast we react to growing business need.
Some of the key trends in the application area are as follows.
• Application modernization & product centric delivery, rather than highly customized solutions.
• More and more API oriented architecture, which enables more dynamic application architecture.
• Contribution to innovation by increasing business and IT collaboration.
• Adaptive and flexible teams to respond to digitalization needs.
And not to forget the response to COVID-19 where we are working most of the time virtually. Therefore, constant engagement with the application teams as well the keep the motivation up, is important. Running workshops digitally is interesting.
If you could change one thing about working here, what would it be?
As I mentioned about business-IT collaboration, I would like to emphasis on the fact that we are working towards that goal and I would also like to secure more cross-team, cross-functional, cross-site collaborations.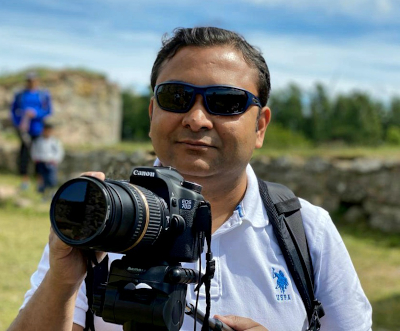 Dipanjan with his camera, enjoying one of his hobbies, landscape photography.
And finally, what do you do when you're not at work?
Due to the COVID situation, I am not able to play outdoor games as much as I would like, but at the same time spending more time at home that enables me to exercise my other hobbies like listen and play music. Recently started playing badminton. I watch TV programs quite a lot, of late I am watching lots of games (Cricket) from the past. I spend lots of time with family and I am also fond of landscape photography.