Technical seminars give customers new insights
Gränges technical seminars keep customers abreast of advances in materials and techniques, strengthening their relationship with the company. The recent seminar in Chennai, India, attracted a strong crowd, despite major challenges presented by the weather.
Gränges technical seminars are carefully planned to enhance the learning experience for both customers and potential customers. But occasionally there are hiccups that can't be foreseen.
The company's India Technical Seminar in Chennai on 25-26 November 2015 coincided with record-breaking rains and flooding in the region that made travel difficult and, in some cases, impossible.
Despite the challenges, the Managing Director of Gränges India, Sampath Desikan, says the event was a significant success. "It's remarkable to note that, despite the flooding and the adverse weather conditions, all the main customers from the Chennai area participated," he says.
Seminars on advanced technologies for heat exchangers
Some 70 customers attended the event, including five potential customers who were keen to learn more about Gränges' offering. With the seminar's theme 'Advanced Technologies for Light Weight Heat Exchangers', participants heard presentations on heat exchanger materials, tube forming, fluxing, and furnaces. These are components or processes involved in the production of automotive heat exchangers, such as radiators and charge air coolers.
Gränges received assistance from three external sponsors in organising the event: flux producer Solvay, furnace producer SEKO Warwick, and tube mill manufacturer Schoeler.
There were great, detailed discussions at the end of each of the technical presentations.
- Sampath Desikan, Managing Director, Gränges India
Strengthening relations with customers
Sampath Desikan says the seminar served an important purpose for Gränges India.
"It was vital to maintaining customer relationships and the Gränges brand image," he says. "It also created a platform for potential new customers to experience what existing customers enjoy in their relationship with Gränges."
The company has previously held similar seminars in 2007, 2009, 2011, 2014 and 2015.
Positive response from attendees
Gränges was represented at the event by officials including company CEO Johan Menckel, Director of Business Development Torbjörn Sternsjö, technical experts from Gränges AB and Gränges Shanghai, and Thomas Ren, who at the time was Sales Director for the Shanghai and India teams. Menckel provided both the opening and closing addresses.
Desikan says the response from attendees was positive. "They were happy to receive the latest news, and there were great, detailed discussions at the end of each of the technical presentations."
A potential growing market for Gränges
With GDP in India forecast at 7–8 percent a year in the coming years and domestic car ownership increasing, Desikan sees great potential for Gränges, locally, despite weakness in the economy in recent years.
"These factors imply that the market is bound to continually grow, and this will help to grow the Gränges business in India," he says.

Light Vehicle Production Growth, India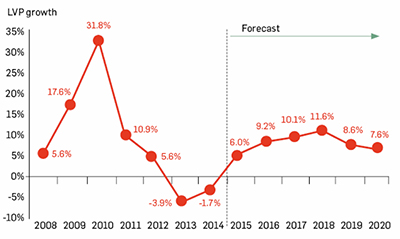 Higher GPD growth than BRIC* average
| | | | | | | |
| --- | --- | --- | --- | --- | --- | --- |
| | 2012 | 2013 | 2014 | 2015** | 2016** | 2017** |
| India | 5.1 | 6.9 | 7.3 | 7.5 | 7.9 | 8.0 |
| BRIC* countries | 5.4 | 5.4 | 5.0 | 4.7 | 5.5 | 5.6 |

*) Brazil, Russia, India, China
**) Forecast
Source: World Bank, 2015