Trillium customer in the forefront
The team responsible for the Romanian company RAAL has succeeded in persuading the customer to increase their orders of Trillium thanks to a close and productive business relationship. At the same time, Gränges gets a good case to show other customers when selling the new material.
Gränges' cooperation with the Romanian heat exchanger manufacturer RAAL started on a fairly modest scale back in 2013, but when Gränges launched the new generation material Trillium Lean at the end of 2017, things really took off.
"The volumes were rather low, but we initiated discussions with the customer to attract them to significantly increase their purchases of Trillium," says Peter Hamnäs, key account manager for RAAL at Gränges.
The work that followed earned the team a nomination in last year's Company Awards, in the commercial performance category. Apart from Hamnäs, the team also included representatives from Product Development, Customer Support, Quality, Process Development, Research & Innovation and Gränges Business Control.
"Our strategy has always been to have a close customer relationship," says Hamnäs. "We have focused on many tests and evaluations, and a clear and transparent pricing model where we start with a higher price which we then could lower as volumes and our production increases."
RAAL has two production facilities with a total of 2,500 employees. In many ways it is a typical Gränges customer, producing heat exchangers for applications like agriculture and forestry, mining and construction, and the car industry.
"At the moment, the car industry is RAAL's smallest business area, but the company sees big possibilities to develop that part of the business, partly due to the increase in electric vehicles and battery cooling," says Hamnäs. "RAAL now bets big on Trillium as a material, and at the end of last year it opened a new production facility adapted to Trillium and without fluxing as part of the process.
From a market perspective, Mikael Pettersson, marketing and inside sales manager, sees a bright future for the new generation Trillium. Its main benefits are that customers can remove steps in the production process and thus cut their staff costs. At the same time, they can develop more complex and compact designs.
"Furthermore, customers can reduce the use of fluxing agent and by that improve the work environment for their employees. Such considerations are becoming increasingly common as more and more companies, and also our end customers, want to improve conditions throughout their value chain and with their suppliers," says Pettersson.
Peter Hamnäs hopes the breakthrough with RAAL can become a springboard for Gränges to meet the growing interest in applications linked to the development of electric vehicles and especially battery cooling.
"Trillium will not replace all materials, but in a few years' time I believe that it will reach 20 to 25 percent of the total production volume in Finspång," he says.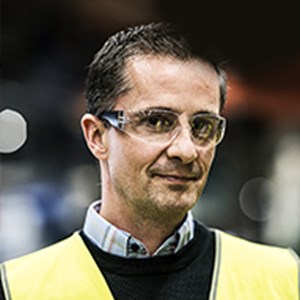 RAAL now bets big on Trillium as a material.
- Peter Hamnäs, key account manager
Trillium facts: fluxing built into the material
Trillium is a metal matrix composite material that can be used to produce aluminium brazed joints without the need for adding a fluxing agent. Instead, fluxing is built into the material, in a process Gränges calls active brazing. The second generation of the product, Trillium Lean, was launched in 2017. Trillium Lean is an enhanced version of the material. Using a multi-layer set-up, only one tenth of the Trillium volume is required compared to the first-generation product, Trillium Solid. This approach makes Trillium Lean considerably more cost-effective than its predecessor for most applications. Another competitive advantage is that the optimized amount of fluxing agent gives very small flux residues after brazing, which is important in some applications.