We need to embrace digitalization and digital transformation

We met up with Helena Lejonklou, Global Enterprise Architect at Gränges AB and asked her a few questions about digitalization and how she and the IT department in Gränges work with digital transformation.
Tell us a little bit about yourself and your background.
I grew up in the northern part of Sweden and now live in Västerås, approximately 100 kilometers north west of Stockholm with my family. I have always been curious about technology. When the first computer games and basic programming came out on the market, I wanted to learn how it worked and how to make computer games. For me, the choice to the university was simple - computer science.
I started to work as a Global enterprise architect in Gränges October 2017 at the HQ in group IT. Our role is to support the entire Gränges group organization in business development and improvements.
So, why Gränges?
Earlier in my career, I worked at ABB developing and commissioning Level 2 and MES systems for steel mills and rolling mills for 12 years. Seen from the process perspective, aluminum and steel operations are almost similar. After working for several years in the service sector, I was missing the manufacturing industry. During the last decade, I spent most of my time working with digitalization and business development, where I had the opportunity to keep up to date with the latest trends and technologies for digital transformation within the manufacturing industry.
I knew I would feel right at home at Gränges, where we are just embarking on our digitalization journey. Here I can apply my knowledge and experience in collaboration with colleagues across the organization, to add value to our customers and to the business.
What does a Global Enterprise Architect do? What's your scope/objective?
An enterprise architect work on corporate level to align digitalization and I&T (information & technology) strategies with business vision and objectives, by providing architectural oversight, guidance and roadmaps. Enterprise architecture also drives consolidation, reuse, and economy of scale by addressing company-wide goals in a holistic way across all projects and continuous improvements. This requires good collaboration between business and IT.
In my role I must keep me up to date with all the new technology and digitalization trends to understand how they impact our business and IT architecture. The ultimate goal is to support the implementation of Gränges business strategy and objectives.
What does a typical day look like for you and what are you currently working on?
I start working 07:00 on the train to Stockholm. On a typical day, I spend most of my time interacting with different stakeholders across the organization. I'm involved in several projects and my current priorities include IT security activities, Gränges digitalization and I&T strategy 2020-2025. Other areas that I continuously work on are capability mapping, business and technical architecture, review of documentation, architecture forum, provide requirements, set standards and re-use guidelines. All, to make sure that we get long-term value for our technology investments and that they are future proof. On my way home, I always spend my time reading about trends in our business' and our customers' industry segments from a digitalization and industry 4.0 point of view. I also follow the trends that are general for digital transformation because, sooner or later, they will impact our business too.
What do you like most about your job? What's the best with working at Gränges?
It is to be able to influence changes and improvements that create value to Gränges customers and business. I have previous experience working with a large digital transformation journey, where I learnt what works and what does not. I hope I will be able to use my experience to support Gränges to reach our digitalization strategy and goals. It is magic to see when your colleagues and organization begin to evolve, cooperate and communicate to create value together to customers in digital transformation initiatives. That can be achieved through working in cross-functional teams, new methods (e.g. customer journey, design thinking), and ways of working (agile), build insights, use of new technology, collaboration with partners and customers etc. Digitalization in combination with digital transformation is different executed than traditional business development.  
Are there any trends in IT you can tell us about?
The role of IT has changed over the last 10 years, where the use of data in new ways and with new technologies create new business opportunities, that can help organizations to grow and differentiate from their competitors. One of the opportunities is to deliver digital services that add value to customers and to our value chain.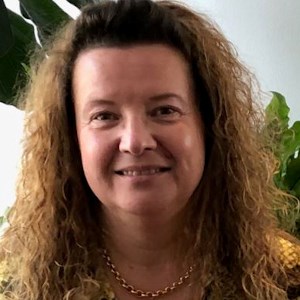 You do not distinguish between IT and business, everything is business.
- Helena Lejonklou, Global Enterprise Architect at Gränges AB.

IT have moved from an internal supplier to be a business developer though digitalization and digital transformation. Data is the new asset in a company and a prerequisite for digitalization. Part of that transformation is to establish new ways of working and culture in organizations. You do not distinguish between IT and business, everything is business. Information and technology are enablers for the organization to achieve business objectives and customer requirements.
If you could change one thing about working here, what would it be?
I would like to improve collaboration through working in cross-functional teams, across all regions, to have less of silo thinking and sub-optimization. Using our resources and know-how in a more effective way is important to be able to succeed in digitalization and digital transformation as a group.
And finally, what do you do when you're not at work?
In addition to spending my free time with family and friends, I like painting (mixing colors), traveling, reading books, outdoor activities and trying different types of crafts. My biggest passion is fishing, my sister and I go on a girl fishing holiday each year. This year we will go to Mexico for big game fishing.
If you want to know more about digitalization and digital transformation or have any ideas or just want to talk, you are welcome to contact me. I would appreciate that.