Win-Win situation
Interest in the Gränges Company Awards continues to grow, and the number of submitted nominations increases every year. "We see that the initiative is a driver for improvement projects," says CEO Johan Menckel. "At the same time it creates a lot of engagement throughout the company."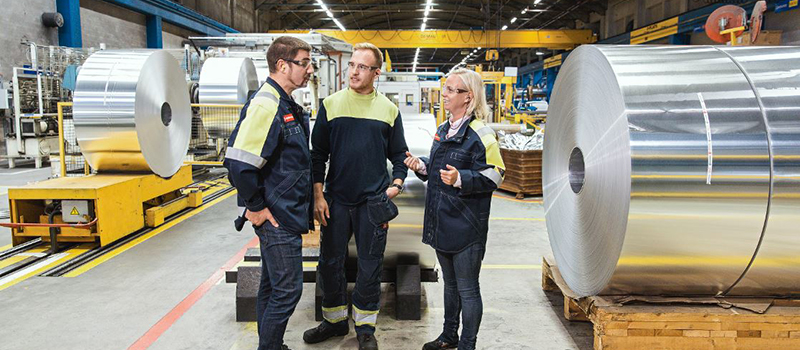 Appreciated teamwork. One of the areas Gränges Awards seeks to address is to encourage cooperation of all kinds.
When five winning teams recently received their respective Company Awards for 2019, it marked the third year of the initiative. The annual award program was created to encourage the entire organization to continuously improve Gränges' overall business performance. The idea was also to spread knowledge within the group about teams, projects and methods that are making a real difference to the company.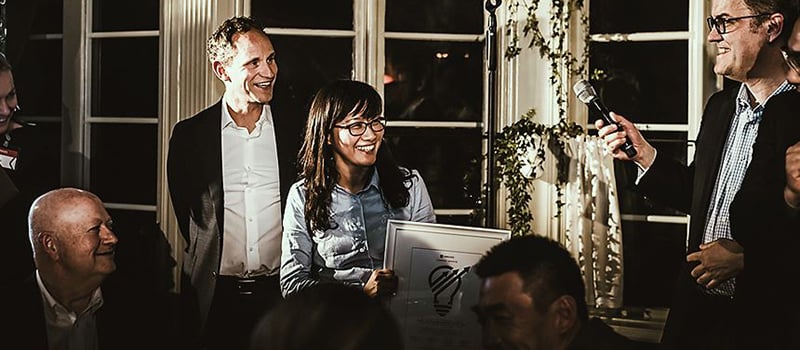 First time around. Lucy Wang, SVP Sales & Marketing, Gränges Asia, with CEO Johan Menckel and Torbjörn Sternsjö, SVP Technology & Business Development at the first Company Awards in 2017.
"You could say it's a mix of strategy and creating a culture that encourages improvement," says Gränges' CEO Johan Menckel.
He says the creation of the initiative was sparked by discussions within the management team. Several members had positive experiences gained from awards programs in other organizations, and found the overall contributions to be beneficial for those companies.
"We also wanted to connect the awards program in a tangible way to the new 2020 strategy that we launched in 2017, with its four pillars – Innovation, Sustainability, Continuous improvements and Growth," says Menckel.
Initially there were four separate categories, with each one corresponding to a pillar of the company's strategy; Innovation, Sustainability/ Safety, Continuous improvements (GPS) and Commercial. In 2019 a fifth category was added, as Sustainability and Safety each became categories in their own right.
"As we in 2019 launched the company's new set of ambitious and clear long-term sustainability targets we felt that sustainability deserved a category of its own in the Company Awards. Sustainability needs to be integrated into everything we do – from our employees and the places where we are present, to our customers and our products."
Aside from highlighting measurable improvements, there are also other, "softer" areas that the awards program seeks to call attention to, according to Johan Menckel.
"We want to recognize the good work of different teams and units. It's in our company's culture to give praise."
"Another important factor is to not only highlight individual employees," he continues. "Instead, by targeting the good work being done in teams, we hope to encourage behavior that includes cooperation of different kinds, not only within existing teams but also across sites and departments."
Johan Menckel says Gränges has observed a number of positive effects thanks to the awards program, including increased engagement and a rise in the number of improvement projects undertaken. The results so far are encouraging, and he wants to continue to develop the awards program, although the categories might be changed to align with the company's future business environment.
We wanted to connect the awards program in a tangible way to the new 2020 strategy that we launched in 2017.
- Johan Menckel
What are your best memories from three years of Company Awards?
"Two memories stand out: the first is when we announced Company Awards for the first time, which also coincided with our very first Company Days leadership conference. It was a great occasion and a great setting in Åre, a renowned ski resort in northern Sweden. The second memory is quite recent actually, – it was when the US team got their award for commercial performance. I'll never forget the joy and pride that Brad Thomas who represented the team showed when the winner was announced."