Gränges' Annual General Meeting 2020

Gränges' Annual General Meeting (AGM) was held on June 25, 2020 in central Stockholm.
Gränges' Chairman of the Board of Directors, Anders G. Carlberg, opened the AGM and greeted everyone. CEO Johan Menckel presented an overview of Gränges' markets, businesses, products and 2019 results and achievements.
Some highlights mentioned by Menckel:
In November, the agreement to acquire the Polish flat rolled aluminium producer Aluminium Konin was announced. "We are now waiting for the clearance from the competition authorities", Menckel said.
In the US, the expansion of the Huntingdon facility was completed and the facility in Newport was re-opened. In Sweden the investment programme to increase efficiency and capacity in the facility in Finspång proceeded.
The acquisition of Aluminium Konin and the expansion projects in the US and Sweden will, when finalized, add new capabilities and a total annual production capacity of 220 ktonnes.
Efficiency measures, including a general savings programme, capacity adjustments and organizational changes, were implemented to adjust the cost base and improve efficiency.
The ambition for sustainability was raised with continued implementation of the groupwide sustainability framework and global long-term sustainability targets. Gränges became a member of Aluminium Stewardship Initiative (ASI) and the production facility in Shanghai, China, was certified against ASI's Performance Standard.
Gränges achieved good sustainability progress in 2019. "We have intensified the development of broader and more sustainable offerings, as we see that this becomes of more importance for our customers", Menckel said.
Watch the full CEO speech here >
New Chairman on board
Fredrik Arp was elected as Gränges' new Chairman of the Board. This year's AGM was the last as Gränges' Chairman of the Board for Anders G. Carlberg. During Carlberg's time as Chairman and since the listing of the Gränges share in 2014, Gränges has more than doubled its sales volume and profit and generated growth above industry average driven by technically advanced products, innovation, successful acquisitions and a strong sustainability commitment.

At the AGM, Anders G. Carlberg handed over to Fredrik Arp as new Chairman of the Board.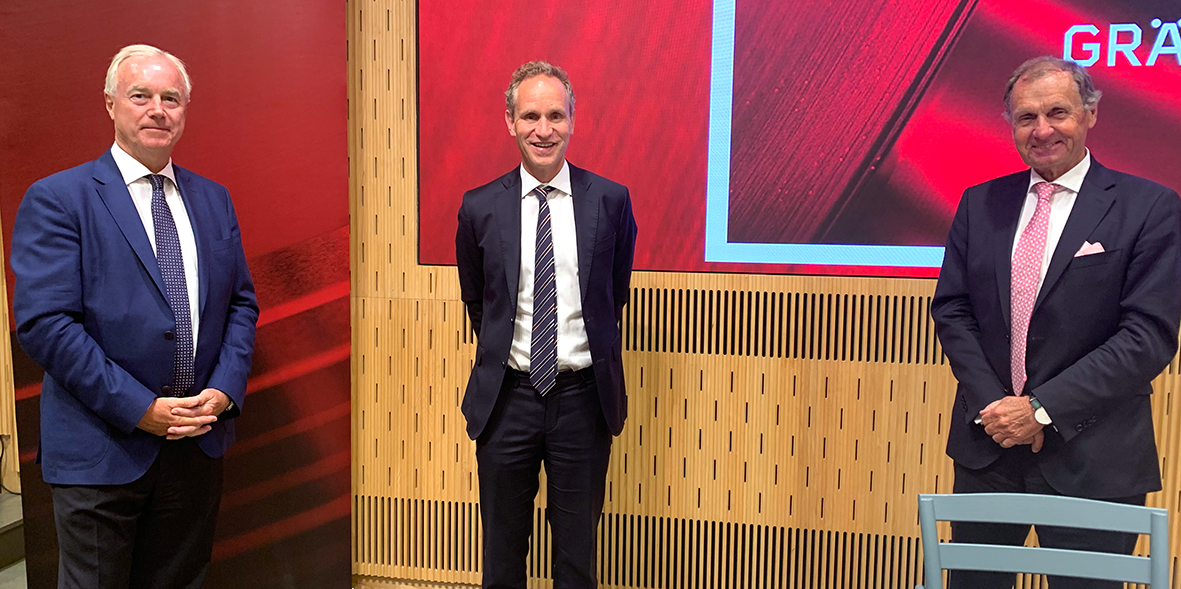 Fredrik Arp, Johan Menckel och Anders G. Carlberg.
Fredrik Arp has previously been CEO of Volvo Cars Corporation and Trelleborg AB. He is currently Chairman of the Board of Bravida Holding AB, Nolato Aktiebolag and Hövding AB, and board member of Swedfund International AB.
More detailed information on the content of the resolutions can be found here >