Fighting pricing pressure with innovation
When pricing pressure from competitors increases, Gränges responds by intensifying its focus on quality and product development. Kent Schölin, previously CEO at Finspång, is leading a major research and innovation initiative that will culminate in completely new products.
In a lab at the Gränges research and innovation (R&I) facility in Finspång, Berit Bruun tries to interpret the images on the screen in front of her. The lab's new scanning electron microscope can magnify up to one million times, a thousand times more than an optical microscope, and requires completely new ways to view and understand aluminum samples.
Kent Schölin, who has had global responsibility for R&I since 2017, gives us a tour of the lab and explains that the microscope was an important investment for the Gränges Group. The Finspång facility has engaged in aluminum research and development since the 1920s, but in 2017 the facility received a thorough facelift. In addition to the electron microscope and associated equipment, a new metallography lab was commissioned and new employees and talent were hired.
The background is a strategic decision to focus even more on product development. Since 2017, "Innovation" is one of the strategic pillars of Gränges' strategy. According to Kent Schölin, the decision was a necessary consequence of the market trend. Lower prices from both Chinese and European suppliers have increased the pressure.
"Since Gränges was founded we've always been able to charge a price premium compared with the competitors. The customers appreciate our dedicated niche, material for heat exchangers, and that we offer the highest quality and reliable delivery. But that isn't enough; to retain the price premium, we need product development."
Competing by lowering prices is not on the table.
"If we can't retain our price premium, we won't be able to continue. We can't win on price against low-price Chinese competitors," says Kent Schölin.
R&I in the Gränges Group
Gränges has research and innovation facilities in Finspång, Sweden, and in Shanghai, China.
The Finspång facility develops global solutions, products for the European market, and completely new products.
The Shanghai facility develops global application solutions, as well as products for the local market.
The goal is to start local product development in Huntingdon, Tennessee in the US.
He and his employees are tasked with ensuring innovative and efficient product development. The work largely involves improving material properties, often based on specific requests from customers.
"Much of what we do here involves understanding how aluminum works and reacts in order to make it as durable and as corrosion- resistant as possible. Meanwhile, customers always want their components to be thinner and lighter.
In addition to continual development of the material, the R&I facility has another mission: designing products for completely new applications. Gränges has made heat exchanger materials since 1972 and currently has a global market share of 20 percent. Although the company is well-equipped for a future with electric vehicles, including the new material Trillium, there is still great uncertainty about the future of the automotive market.
"There's a limit to how much we can grow in heat exchangers. Growth just to keep pace with the market isn't enough. That's why new products and new applications are needed, based on the expertise and experience that has accumulated since the 1920s."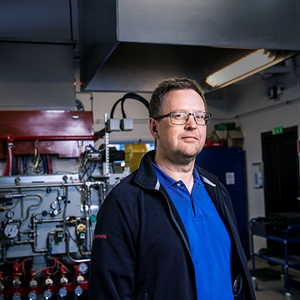 There's a limit to how much we can grow in heat exchangers. That's why new products are needed.
- Kent Schölin, SVP Research & Innovation