Full swing at the rolling mill
When Gränges in Finspång in 2017 carried out a situation analysis of the entire operation, one of the three tandem cold mills showed up as a "key machine". Almost all the material produced at the factory goes through this particular machine.
And if it were to be possible for Finspång to reach the overarching production target for 2018 – clearly, improvements to tandem cold mill 2751 played a major role.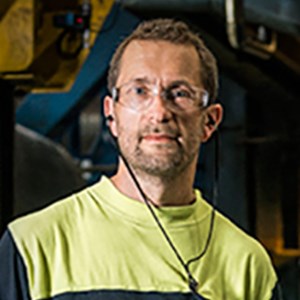 The key to our success was that we set clear goals and milestones together.
- Henrik Spångberg, production manager for rolling, Gränges in Finspång
"We began working on this in the spring of 2017 by starting with the overall targets and breaking them down to key performance indicators (KPIs) for this specific machine. We boiled it all down to two key performance indicators that we considered to be most important – average mill speed and coil change time," says Henrik Spångberg, production manager for rolling at Gränges in Finspång.
The core group that took on the job of fine tuning the activities at the machine consisted of operators, production leader Magnus Jonsson, Attila Szöcs, maintenance coordinator, and Lars Svensson from production engineering.
"At a later phase, GPS specialist Marcus Andersson joined the team. He was a tremendous help when it came to visualization and use of the GPS tools," says Henrik Spångberg.
What happened next could perhaps be called a textbook example from Gränges Production System – where all employees are involved in working with continuous improvements.
"The key to our success was that we set clear goals and milestones together, which we continually monitored. People are the main driving force – the operators did the job through their commitment and the discussions and follow-ups we had at our daily meetings."
Henrik Spångberg added: "The improvements in the average time were implemented almost completely without technological improvements and almost exclusively through a spirit of what he calls "focused problem solving."
Based on your improvement efforts, what is your best tip that you would like to share with colleagues in the US and China?

"You should work on involving all employees in a department, or those who work with a machine, and make them feel like a part of the process."
During the improvement initiative at the tandem cold mill, one factor arose that Henrik Spångberg and his group would like to examine more closely: the material from the hot rolling mill, which is earlier in the production chain, sometimes has coil ends cut at an angle, which jams up the process in the tandem cold mill. This has resulted in an ongoing project replacing the scissors that cut the coil ends in the hot rolling mill.
"In our work moving forward we will also focus on neatness and order according to the 5S method. It's tremendously important, both for safety and for saving time in the work task," he says.
"Another area we will continue to analyze is time utilization in the machines. We want to maximize production time and do everything possible to reduce stoppages and disruptions."
Awards jury: Enabled production records
Gränges Finspång has managed to reduce bottlenecks in the Tandem cold Mill (2751) by applying the GPS principles and tools. This was achieved by establishing a strong focus on performance in the daily management and by creating a good learning and problem-solving spirit between the crews. This efficiency improvement has enabled Finspång to increase sales and recently, to reach new production records.

Team members
Magnus Jonsson, Henrik Spångberg, Attila Szöcs, Lars Svensson, Marcus Andersson.
Shift personnel
Ida Edengren, Jennifer Grönqvist, Marcus Follerstedt, Filip Larsson, Matilda Lindqvist, John Gustafsson, Benny Grandell, Jaakko Tammelin, Marcus Andersson, Andreas Östrand, Anders Klasén, Henrik Broström.