TRILLIUM® - a flux less material with outstanding brazing results
Gränges' patented technology TRILLIUM® is an advanced multilayer material with unique properties. It enables customers to remove steps in the production process and develop more complex and compact designs. This technology simplifies the complex brazing process by making the degreasing, fluxing, cleaning, and drying stages redundant. Instead, Gränges makes it all happen within the material in a process we call Active brazing.
TRILLIUM® also improves customers' sustainability performance due to the built-in fluxing agents that enables customers to operate a process without added flux. TRILLIUM® help our customers reduce costs, create new designs, and reach a higher level of profitability – while reducing their environmental impact.
Engineered for great flexibility
TRILLIUM® technology has been developed in collaboration with key customers and leading technical institutes and delivers outstanding brazing results and benefits, even to the most challenging application areas. The spray forming technique, that creates a metal matrix composite of aluminiumsilicone alloy and potassium aluminium fluoride salt, is the foundation of the innovative material. The core benefit: a brazing process without the need to add flux salt. The composite can then be converted into both single and double-side clad brazing sheets, enabling customers to overcome limitations and create innovative designs.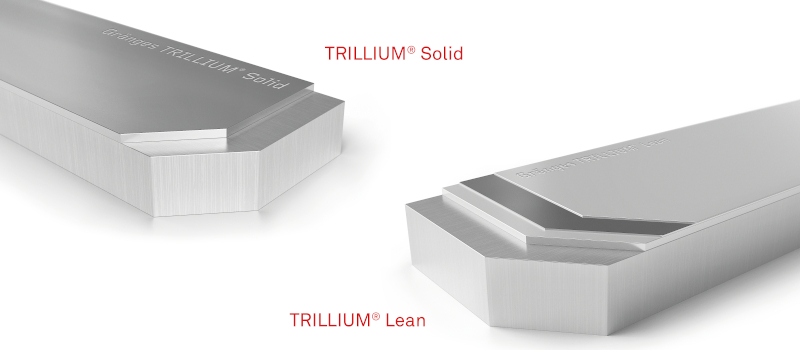 Simplified brazing process
The conventional brazing process includes several labour-intensive steps, like degreasing, fluxing, drying, and thorough cleaning to remove flux residues. With TRILLIUM® these steps are redundant, so you can braze faster, smoother, better – and in larger amounts.
Summary of the TRILLIUM® benefits
The benefits of TRILLIUM® can be summarized in the following five categories:
• Design freedom – more complex constructions are possible, thanks to inbuilt flux and excellent joint formation.
• Performance improvement – lower weight loss and improved resistance to corrosion.
• Production flexibility – smoother production process, increased product quality, and lower reject rate.
• Cost savings – less material, chemical and labour costs, reduced maintenance, and significant energy savings.
• Environment, health and safety – streamlining of production processes, environmentally conscious product development, and an improved working environment.


Gränges uses the materials platform Matmatch to share detailed material data and valuable insights on a selection of our aluminium materials. We regularly update the content and publish use cases which explain the potential of our solutions.
To read the full article on Trillium® please visit Matmatch ›
Learn more about TRILLIUM® ›
Download the TRILLIUM® brochure
Contact Gränges