An inclusive corporate culture
Gränges' corporate culture and core values – committed, action oriented, innovative, and accessible – guide employees in their daily actions and lay the foundation for conducting business responsibly, ethically, and open-minded. Being accessible for example entails that employees should promote equal opportunities and fairness at the workplace, as well as have an unbiased attitude. In 2021, Gränges Konin conducted training for white collar employees focusing on spreading awareness of Gränges' corporate culture and values.
Gränges strives to provide a non-discriminatory and inclusive work environment which leverages employees' different perspectives, experiences, and ideas. A multifaceted workforce also reflects the international market in which Gränges operates. Important diversity aspects for Gränges include gender equality as well as ethnic diversity, where the latter aspect is mainly applicable for Gränges Americas. In line with the company's global Diversity Policy, no employee should experience discrimination based on gender, age, world view, background, sexual orientation, ethnicity, physical ability, or similar.
The strive for gender balance
Improving the gender balance in the total workforce and among senior management is a key priority across the organization. The company aims to expand the number of women both in blue-collar and white-collar positions and strives to further develop and provide career opportunities for women and to build a larger internal pipeline of women candidates when recruiting to senior management positions.
Women in senior management, 2017–2021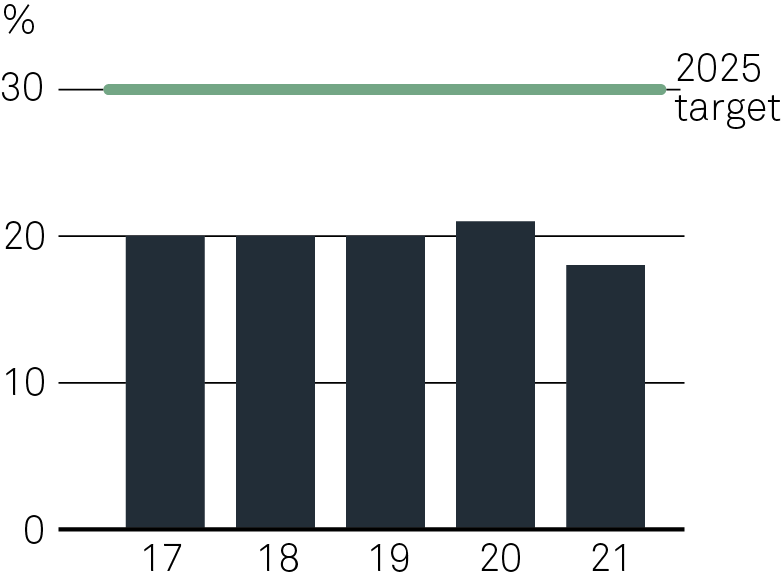 Women in total workforce, 2017–2021
Gränges sees clear challenges connected to improving the gender balance including for example low employee turnover rates in some regions and high turnover rates in other regions, operating in rural areas where it may be more challenging to find the right competence, as well as operating in countries where gender roles largely are traditional. The company has also experienced a reduced workforce in some production facilities due to weaker market conditions.
Actions to be aware of biases
Gränges manages diversity and inclusion matters mainly on a local level, but group-wide principles lay the foundation for prioritized activities. The company for example has a principle to have at least one woman in the final interview round of each recruitment process, and in cases where there are few or no women applicants, the recruitment process is expanded to a broader search. Other principles include to conduct structured termination interviews to follow-up gender related issues, to map and analyse response gaps between men and women in the employee survey, and to offer awareness activities to increase employees' understanding and identify potential diversity biases.
Gränges Finspång performs annual gender-related disparity pay analysis and in 2021 it was confirmed that a few non-objective gaps were identified which were instantly corrected.
Targets and target fulfilment
See detailed information about Gränges' long-term sustainability targets and target fulfilment.