Increasing energy efficiency
Gränges works to achieve continuous energy efficiency improvements. The company carries out regular energy audits and considers the best available technology for new investments and refurbishments. Energy efficiency measures are primarily linked to improved metal yield, thermal processes, and recovery of waste heat. The main energy consumption occurs in the re-melting and casting process and with main energy sources being natural gas, electricity, and liquefied petroleum gas.
Gränges strives to take a holistic approach in reducing the total climate impact, and sometimes the company needs to accept slight increases in energy consumption because of using more aluminium scrap in the re-melting facilities compared to using primary ingots. The reduction in emissions from sourced aluminium scrap more than offsets the increase in operational emissions.
Promoting renewable energy
By using renewable energy, Gränges can lower its carbon emissions and reduce air pollutants from its production. The largest impacts come from the company's furnaces where aluminium is re-melted either via combustion using fossil fuels or via induction using electricity. In 2021, Gränges set a quantitative target to increase the usage of renewable energy in its own operations to at least 20 per cent by 2025, upgraded from a previously directional target.
Gränges' production facilities have different possibilities to source renewable energy. In Finspång, Gränges sources 100 per cent specified electricity from hydro power which is used in induction furnaces, whereas liquefied petroleum gas is used in combustion furnaces. In Gränges Shanghai and Americas, natural gas is the primary energy source, and electricity is sourced from regulated energy markets which currently are mainly based on nuclear and non-renewable energy. In Gränges Konin, natural gas and electricity are the main energy sources where electricity is mainly based on non-renewable sources such as coal.
Energy use by type, 2021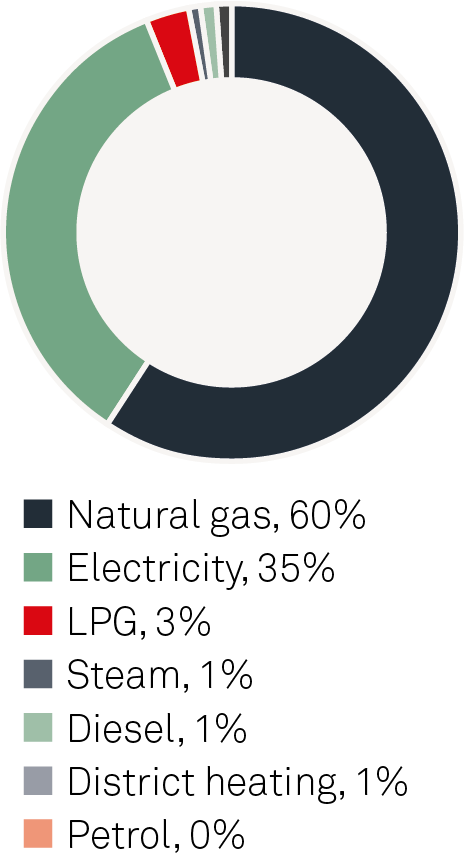 Renewable energy/energy mix, 2021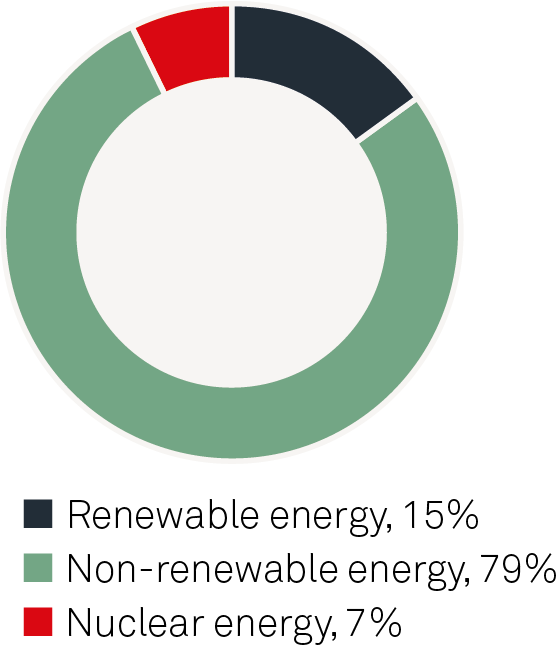 Energy intensity, 2017–2021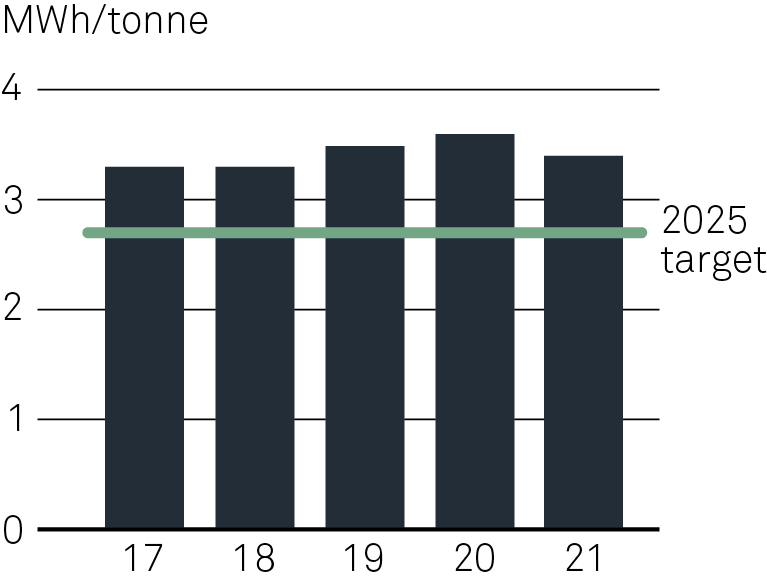 Improved energy efficiency in Gränges Konin
In 2021, Gränges Konin conducted an inventory of heating and steam fittings to improve energy efficiency in its operations. Steam and heating installations are usually insulated only on straight sections of pipelines, elbows, or tees, and due to its surface, uninsulated fittings generate significant losses of heat energy. The inventory resulted in installation of insulating covers for elements of heating fittings, bringing expected energy saving of 700 MWh per year.
Targets and target fulfilment
See detailed information about Gränges' long-term sustainability targets and target fulfilment.