Various water conditions
Gränges uses water mainly for cooling purposes, such as cooling production equipment and preventing overheating and production disruptions. The production facilities in Huntingdon, Salisbury, Newport and Shanghai have closed-loop cooling systems with a high degree of water recirculation, which reduce water consumption and the risk of water contamination. In addition, water is used to make up emulsions in different process steps and for domestic purposes. Ground water is used at the site in Huntingdon whereas municipal water is used at the Salisbury, Newport, and Shanghai sites. The production facility in Konin uses both ground water and municipal water and the production facility in Finspång uses surface water withdrawn from two nearby lakes. The water is primarily used for cooling purpose and is then released into local waterways. Daily measurements are made to ensure that the released water does not contain hazardous substances and water that may contain contaminants is treated by an external partner before being returned to water bodies.
Water withdrawal by source, 2021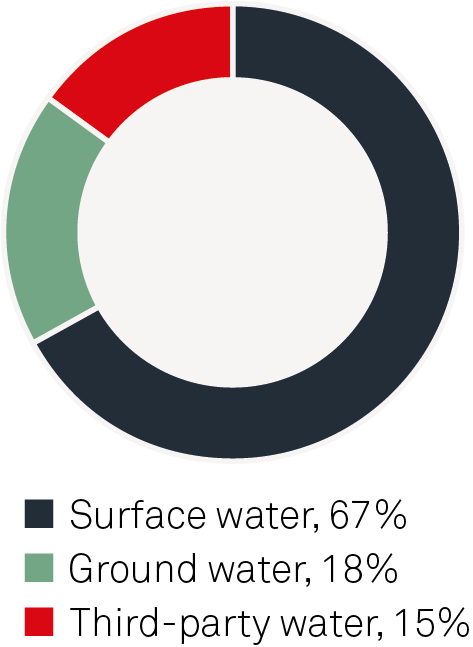 Regional water stress and risks
Since the company's production sites are located in areas with various water stress and risks, Gränges manages water-related aspects based on local circumstances. Input from the World Resources Institute's Aqueduct Water Risk Atlas shows that the sites in Finspång and Newport are located in areas with low-to-medium risk, Saint-Avold, Huntingdon and Salisbury sites in medium-to-high risk, and Shanghai and Konin in high-risk areas. No water sources are significantly affected by the water withdrawal or discharge from Gränges.
Local water management plans
As water-related aspects and risks are managed based on local circumstances, Gränges works to implement local water management plans in all its locations. These plans include local targets and activities to address water-related impacts, such as water efficiency improvements, quality of effluent discharge, conservation activities, and local stakeholder engagement. At the end of 2021, Gränges has implemented local water management plans in three sites: Finspång, Shanghai and Newport. The site in Newport was certified in accordance with Alliance for Water Stewardship's (AWS) International Waters Stewardship Standards, confirming that the site is both managing its water resources and contributing to efforts within the catchment. Gränges also includes water risks when conducting supplier sustainability assessments.
Targets and target fulfilment
See detailed information about Gränges' long-term sustainability targets and target fulfilment.