Green primary aluminium sourcing
Expanding the use of low-carbon primary aluminium can reduce the climate impact from sourced metal inputs, especially in regions where the primary aluminium production is largely dependent on fossil energy sources. In the metal purchasing process, Gränges increasingly evaluates input materials and suppliers using climate-related criteria, e.g. climate performance and carbon emissions reduction activities and targets. The availability of low-carbon primary aluminium produced using renewable energy varies to a large extent depending on geography and renewable energy supply. When suitable, Gränges sources low-carbon primary aluminium both from commodity traders and slab suppliers. The willingness and feasibility from commodity traders to provide verified carbon footprint certificates for low-carbon aluminium varies across geographies and actors.
In 2021, 21 per cent (26) of Gränges' sourced primary aluminium was defined as low-carbon in accordance with suppliers' specified and third-party verified carbon footprint certificates, mainly related to sourcing within Gränges Finspång.
Raised recycling ambition
Expanding the use of aluminium scrap is the most efficient way to reduce the climate impact from sourced metal inputs since such materials can save up to 95 per cent of the energy needed to produce primary aluminium. The environmental value of recycling increases downstream in the value chain and post-consumer (EOL) scrap is a clear positive contributor to the circular aluminium usage.
Gränges sources pre-consumer used materials from customers and recycling companies and post-consumer used materials from recycling companies. The company also recirculates processed aluminium from its own operations. As a result of Gränges' strong focus to increase sourcing of aluminium scrap, the company in 2021 upgraded its 2025 target from previously 20 per cent to at least 30 per cent.
Varying recycling conditions
The conditions and availability of aluminium scrap differ geographically, and the feasibility to increase usage depends on the type of production as well as local availability. Since aluminium is often used as a long-lasting material in buildings and vehicles with long lifespans, the availability of aluminium scrap can be a significant constraint. It can also be a challenge to recycle aluminium as it is often used in combination with other materials, and an efficient process requires good sorting, separating, and re-melting technologies. The lower the content of alloying elements, the easier the materials are to separate, recycle and retain the value of.
In Gränges Finspång and Gränges Shanghai, where a high number of alloys for brazed automotive heat exchanger applications are produced, strict sorting of aluminium scrap is required to secure that the materials fit well in the specific alloys produced. Material for brazed heat exchangers consists of clad materials where different alloys are rolled together, which makes it difficult to separate upon recovery. Brazed heat exchangers are also challenging to recycle at end-of-life as the various constituents are difficult to separate and sort. Efficient recycling systems are critical to help retain the value of the alloy elements in the loop.
Gränges Konin faces the same challenge, but in addition to clad materials for brazed automotive heat exchanger applications, the facility also produces more standardized alloy applications that allow for wider composition limits making it possible to reach a higher share of sourced aluminium scrap. Gränges Americas similarly produces more standardized alloy applications and all volumes of aluminium scrap from its own processes are recirculated.
Total sourced metal inputs, 2021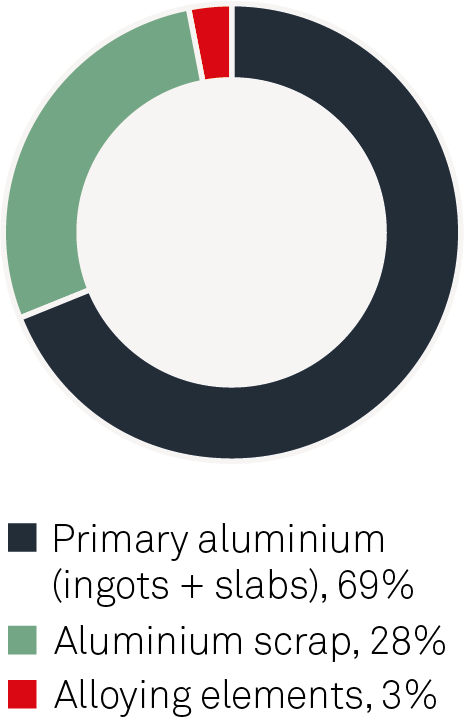 Sourced aluminium scrap, 2017–2021
Sourced aluminium scrap per category, 2021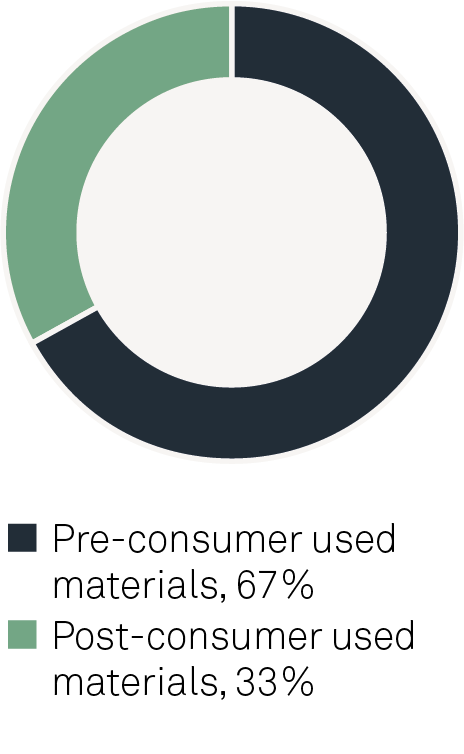 Targets and target fulfilment
See detailed information about Gränges' long-term sustainability targets and target fulfilment.