Sustainable innovation and sales
Gränges is committed to developing and selling products and solutions which can improve customers' and products' sustainability performance as well as contribute positively to a more circular industry approach to aluminium. A sustainable aluminium offering is characterized by having a low climate impact, being circular and resource-efficient and being responsibly sourced and produced.
Performance 2021
35 per cent (19) of Gränges' products had third-party verified sustainability information.
Products with sustainability information, 2017–2021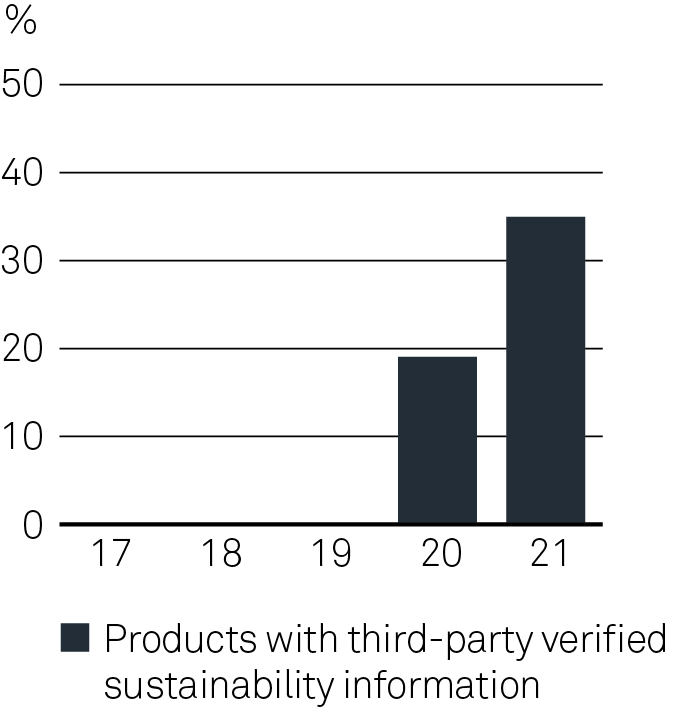 SUSTAINABLE INNOVATION
Leveraging the advantages of aluminium
Gränges works to take a frontline position in markets where higher sustainability performance requirements are set on products, and a key priority is to develop products which can improve customers' and products' sustainability performance. The company works to leverage the advantages of aluminium by designing and manufacturing products and solutions which can improve customers' operational performance as well as the sustainability performance of their products. Lightweight aluminium can deliver significant energy and climate savings in the use phase, often entirely offsetting the initial energy consumption required to produce the metal.
As an example, an increased use of aluminium in transport applications contributes to improved resource efficiency in customers' product manufacturing process. It also reduces the weight, energy consumption and carbon footprint of the vehicle as well as the range of electric vehicles when in use. According to a study commissioned by the International Aluminium Institute, it was concluded that lightweighting of transport vehicles can lead to substantial fuel and carbon emissions savings. Per 100 kg weight reduction, the potential lifetime saving for a passenger car was estimated between 500 kg and 2,000 kg of carbon dioxide.1)
Developing sustainable alloys
The company works to incorporate sustainability into product development with a focus on products' full life-cycle performance. The biggest opportunities for improving products' sustainability performance are in the early stages of the product development process, when the product characteristics are decided.
Gränges has an ambition to design low-carbon and circular offerings that are based on more recycled materials and that can be efficiently dismantled, collected, sorted, and recycled downstream the value chain and after products' end-of-life. Aluminium is well suited for recycling, but the maximum level of recycled content is determined by the specific alloy composition. Gränges' alloys are well suited for a high recycled content, however strict product requirements on strength, corrosion resistance and other critical characteristics need to be met simultaneously.
Almost half of Gränges' ongoing product development projects aim to reduce products' negative sustainability impacts, either through a higher recycled content or through lightweight products with better characteristics enabling less, smarter, or longer usage.
Customer collaboration
Gränges runs several customer collaborations within the heat exchanger, HVAC, and battery segments where the aim is to jointly develop sustainable alloys in line with customers' material characteristics requirements.
Closed and open loop collaboration, in which aluminium scrap from customers' manufacturing process is brought back to Gränges and re-melted into new products, is an important part of customer interactions. Several such initiatives have been agreed during 2021.
PRODUCT STEWARDSHIP
Transparent sustainability information on products
Product sustainability information and labelling Gränges works actively to take product stewardship and reduce the climate impact along the aluminium value chain. The company has measured its organizational cradle-to-gate2) carbon footprint since 2016 and a current priority is to also calculate and declare products' individual sustainability impacts.
Such information enables customers to understand, evaluate and compare Gränges' products from a sustainability perspective. It also helps Gränges to build a solid fact base for innovation and performance improvements, with the aim to further design and develop customer offerings geared towards sustainability and circularity. By 2025, Gränges targets to have third-party verified sustainability information available for all products.
Third-party verified product carbon footprints
In 2021, Gränges expanded the use of its internal life-cycle and carbon footprint assessment tool which enables declarations of environmental impacts on a product level, starting with the products' carbon footprint. The tool is now in use at the sites in Finspång and Shanghai where the company can offer customers third-party verified carbon footprint certificates and a detailed carbon footprint report outlining the methodology.
Gränges' product carbon footprint assessments are conducted in accordance with ISO 14040, ISO 14044, and ISO 14067 and to ensure credibility and robustness, Gränges works with the external party IVL Swedish Environmental Research Institute to verify the methodology, process and routines used in the assessment. All data is updated annually.
___
1) IFEU 2016: Energy savings by lightweighting – 2016 Update.
2) From bauxite extraction to the gate to Gränges' customers.
Expanded closed loop programmes with customers
In 2021, Gränges Americas expanded its closed loop recycling programs with local foil and HVAC customers. In these programmes, customers' process scrap from manufacturing is brought back and remelted into alloys sold back to the same customer. The materials are either transported back by Gränges or through a third-party recycling or freight company. Replacing volumes of primary aluminium with aluminium scrap has a clear positive effect on Gränges' climate impact from sourced metal inputs (scope 3). Gränges Americas have been running such programmes since 2017 and in 2021, approximately 7,000 tons of aluminium scrap was recycled back from customers.
Targets and target fulfilment
See detailed information about Gränges' long-term sustainability targets and target fulfilment.